Advantages
User-friendly interface
Mobile-friendly design
Regular promotions and bonuses
Wide variety of payment options, including cryptocurrencies.
CSGOEmpire Review: Is This CS2 Skin Betting Platform Legit?
Welcome to our in-depth review of CSGOEmpire. If you've ever wondered, "What is CSGOEmpire?" or "Is CSGOEmpire safe?", you're in the right place. We'll delve deep into the platform's offerings, from games and promotions to security measures.
About CSGOEmpire
Established in 2016, CSGOEmpire has emerged as a trusted name in the world of CS2 skin betting. With options to wager using CS2 skins, virtual coins, or real cash, it caters to a wide range of gamers.
🏆 Key Facts Table
| | Information |
| --- | --- |
| 🌐 | Website: CSGOEmpire |
| 🎲 | Games: Roulette, Match Betting, Coinflip |
| 🎁 | Features: Free Case, Bonus Cases, Referrals |
| 📜 | Policies: Fairness, Privacy Policy, Terms of Service |
| 🏢 | Operator: Moonrail Limited B.V., Fransche Bloemweg 4, Curaçao |
| 💼 | License: Regulated by the laws of Curaçao under license number 8048/JAZ |
| 💰 | Payments: Handled on behalf of Moonrail Limited B.V. by JHOLT LTD, Limassol, Cyprus |
| 🌍 | Languages: English, German, Spanish, Indonesian, Italian, Japanese, Korean, Polish, Portuguese, Brazilian Portuguese, Romanian, Russian, Swedish, Thai, Turkish, Vietnamese, Chinese (Simplified) |
| ⏳ | Copyright: 2016 – 2023 csgoempire.com |
Website Interface & User Experience
CSGOEmpire boasts a clean, modern, and easy-to-navigate interface. The design is visually appealing, with a dark theme that ensures a comfortable gaming experience. The website is available in multiple languages, making it accessible to players worldwide. Additionally, the platform is mobile-friendly, allowing for a seamless experience on various devices.
Our Rating: Is CSGOEmpire Legit?
We give CSGOEmpire a solid 4.5 out of 5 stars. Its intuitive interface, diverse game offerings, and stringent security measures make it a top choice. However, the platform could enhance its customer support by introducing a live chat feature.
Promotions
CSGOEmpire isn't just about betting; it's about rewarding its community. From welcome bonuses to daily surprises, there's always something to look forward to.
Welcome Bonus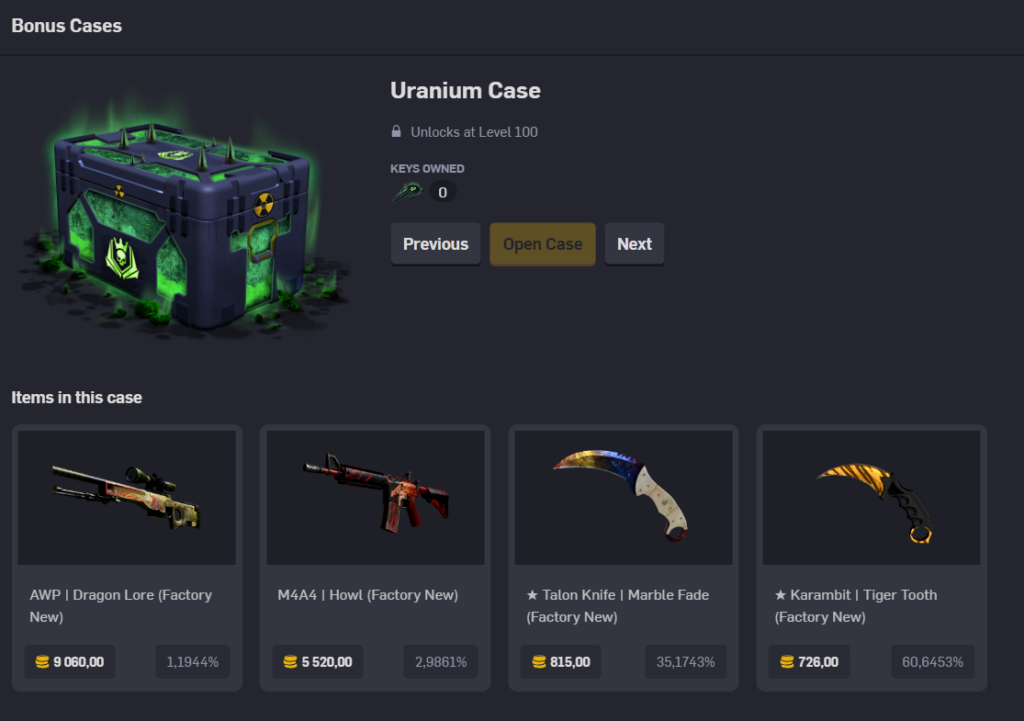 New to CSGOEmpire? Kickstart your journey with a free case, offering a random CS2 skin. Simply register and use a referral code to claim your welcome gift. It's CSGOEmpire's way of saying, "Welcome aboard!"
Daily Cases
Loyalty has its perks. Active users get the chance to unlock daily cases, which might contain free coins, exclusive skins, or other enticing rewards. The more you play, the better the rewards!
Referral System
Spread the word about CSGOEmpire and reap the benefits. With a unique referral code, players can earn commissions, making it a win-win for everyone.
Games You Can Play
Whether you're a strategic thinker or someone who trusts their luck, CSGOEmpire has something for everyone.
Coinflip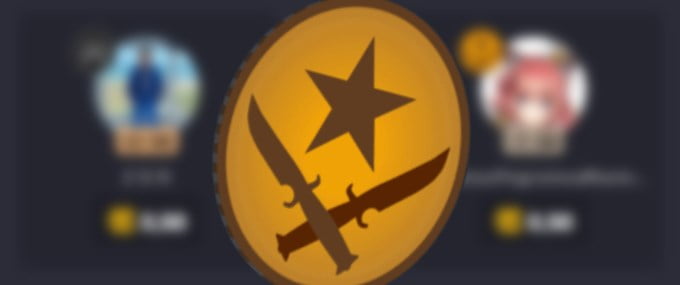 Experience the thrill of the classic Coinflip. Two players, equal wagers, and one winner. It's a game of chance, where fortunes can flip with the toss of a coin.
Roulette
Roulette is a classic casino game that has been adapted for CSGOEmpire. Players can bet on three different outcomes: Terrorist (T), Counter-Terrorist (CT), or Empire (the rarest outcome). The game offers a range of betting options and strategies, making it enjoyable for both new and experienced players.
Match Betting
For those who follow professional CS2 matches, Match Betting is your arena. Bet on match outcomes using skins, coins, or real money, and be a part of the esports sensation.
Case Opening: Unbox Your Luck

One of the most exhilarating features on CSGOEmpire is the "Case Opening" game mode. It brings the thrill of unboxing, the anticipation of what's inside, and the potential for high-value skins.
How It Works
At its core, the Case Opening game mode is simple:
Choose a Case: CSGOEmpire offers a variety of cases, each with its own set of potential skins and prices.
Purchase and Open: Once you've selected your desired case, purchase it using your coins. Then, experience the thrill of unboxing to see which skin you've secured.
Claim or Sell: Depending on the skin you unbox, you can choose to add it to your collection, use it in other games, or sell it on the platform for coins or real money.
Why Players Love It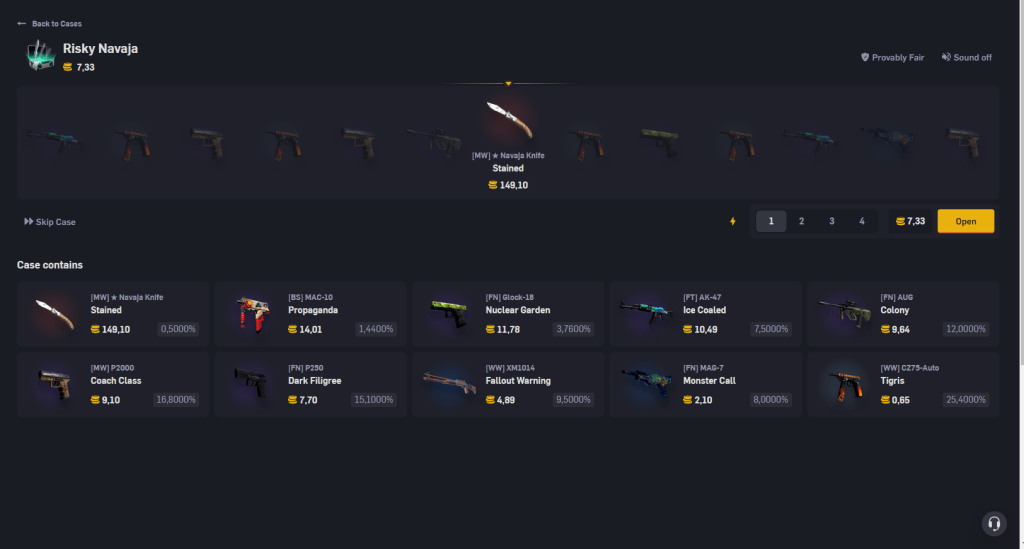 Variety: With a plethora of cases, each with its unique set of skins, players have a vast array of options to choose from.
Potential for High-Value Skins: While it's a game of chance, there's always the possibility of unboxing a rare and valuable skin, making the investment worthwhile.
Engaging Experience: The anticipation, the animation, the reveal – it all adds up to an engaging and thrilling experience.
CSGOEmpire offers players a tailored unboxing experience by categorizing cases into three distinct groups: Featured, Low Risk, and High Risk. Each category caters to different player preferences and risk appetites.
Featured Cases
These are the spotlight cases of CSGOEmpire, often showcasing new, popular, or limited-time skins.
What to Expect: Unique and often exclusive skins that might not be available in other categories.
Who It's For: Players looking for something special, be it a newly released skin or a limited-time offer.
Low Risk Cases
For those who prefer a safer bet, the Low Risk cases are the way to go.
What to Expect: A higher probability of getting a decent skin without breaking the bank. While you might not land the rarest skins, you're likely to get good value for your investment.
Who It's For: Newcomers to the case opening scene or players who prefer consistent, steady rewards without too much risk.
High Risk Cases
For the thrill-seekers and high rollers, the High Risk cases offer the potential for the most coveted skins – but also a higher chance of getting lower-value items.
What to Expect: A chance at some of the most sought-after, high-value skins in the game. However, with high rewards comes the risk of walking away with less than you hoped for.
Who It's For: Veteran players or those feeling lucky, willing to take a gamble for a shot at the big prizes.
Security & Regulation
CSGOEmpire takes security seriously, ensuring a safe and secure environment for its users. The website utilizes SSL encryption to protect user data and transactions. Additionally, it holds a valid gaming license, ensuring that its operations are legal and regulated.
The platform also promotes responsible gambling, providing resources and tools to help users manage their gaming habits responsibly.
Deposit Options
CSGOEmpire offers a variety of deposit methods to cater to its diverse user base:
CS2 Skins: Convert your skins into coins for betting.
Virtual Coins: Purchase and use virtual currency for your games.
Real Money: Direct monetary deposits for those who prefer traditional betting.
Withdrawal Process
Cashing out is just as straightforward. Whether you're withdrawing skins, converting coins back to real money, or transferring your winnings, CSGOEmpire ensures a smooth transaction process. Remember to always check the withdrawal limits and processing times to set the right expectations.
The Verdict
CSGOEmpire stands out as a premier destination for CS2 skin gambling enthusiasts. With its diverse game offerings, robust security measures, and a community-driven approach, it offers a holistic gaming experience. While there are areas for improvement, the platform's pros far outweigh its cons. If you're on the fence about joining, our advice is to give it a shot. Dive into the world of CSGOEmpire, and you might just find your next favorite gaming hub!
FAQs
Is CSGOEmpire safe and secure?
Yes, CSGOEmpire is a secure platform that uses SSL encryption to protect user data and transactions. It also holds a valid gaming license, ensuring that its operations are legal and regulated.
What games can I play on CSGOEmpire?
CSGOEmpire offers Coinflip, Roulette, and Match Betting games for users to enjoy.
Can I deposit and withdraw using real money on CSGOEmpire?
Yes, CSGOEmpire supports real money deposits and withdrawals, in addition to using CS2 skins and virtual coins.
Does CSGOEmpire have a mobile app?
While there is no dedicated mobile app, the CSGOEmpire website is mobile-friendly, providing a seamless gaming experience on various devices.
Are there any promotions or bonuses available on CSGOEmpire?
Yes, CSGOEmpire offers promotions such as a Welcome Bonus, Daily Cases, and a Referral System to reward new and loyal users.
Tips for Winning
While winning on CSGOEmpire ultimately comes down to luck, there are some strategies and tips that can improve your chances of success:
Set a Budget: Establish a budget for your gaming session and stick to it. This will prevent you from overspending and help you manage your gambling responsibly.
Understand the Games: Familiarize yourself with the rules and strategies of each game before playing. This will give you a better chance of making informed decisions while betting.
Start Small: Begin with smaller bets and gradually increase them as you become more confident and experienced. This minimizes potential losses while still allowing for potential gains.
Manage Your Bankroll: Keep track of your wins and losses to help you make informed decisions about when to walk away or when to keep playing.
Take Breaks: It's essential to take breaks and step away from the games occasionally. This helps prevent fatigue and allows you to maintain focus and make better decisions.
Utilize Promotions: Make the most of the promotions offered by CSGOEmpire. These bonuses can provide extra value and help you maximize your chances of winning.
Engage with the Community: Connect with other players on social media channels and forums. This can give you insights into successful strategies and help you learn from the experiences of other players.
Stay Updated: Keep up-to-date with the latest CS2 news, updates, and match results. This information can be valuable when placing bets on match outcomes.
Play Responsibly: Remember that gambling should be a fun and entertaining activity. If you find yourself becoming too emotionally invested or experiencing negative consequences, take a step back and seek help if necessary.
Customer Support
CSGOEmpire offers various customer support options to ensure users can get the help they need. While live chat support is not available, players can reach out through the following channels:
Email Support: Users can submit support tickets via email, and the support team will respond promptly to address any issues or concerns.
FAQ Section: The platform features a comprehensive FAQ section that covers various topics, including account management, deposits and withdrawals, promotions, and more.
Social Media Channels: Players can also reach out to through their social media channels, such as Twitter and Facebook, for assistance or to stay updated on the latest news and promotions.