RuneStake: The Ultimate Guide to Betting with RuneScape Gold
In the ever-evolving world of online gaming, RuneScape remains a timeless classic. But what if you could take your RuneScape gold and turn it into a thrilling betting experience? Enter RuneStake, a platform that brings together the world of RuneScape and the excitement of online betting. This comprehensive guide will delve deep into RuneStake, covering everything from its games and features to rewards and support. Whether you're a RuneScape veteran or a curious newbie, this guide will equip you with everything you need to know about this unique betting platform.
Background Overview:
RuneStake, operating from 2021 to 2023, is a platform that merges the realms of RuneScape and online betting. Though it operates independently and isn't directly affiliated with RuneScape or Jagex Ltd., its essence is deeply rooted in the RuneScape universe. Managed by Yellowbrick Holdings Limited and registered in Belize, RuneStake ensures secure payments through its partner, Yellowbrick Entertainment Limited, based in Cyprus.
RuneStake's Gaming Portfolio
Slide: The Ultimate Game of Chance

Slide is a captivating multiplayer game that combines both luck and strategy. Players bet on one of three possible outcomes, each offering varying multipliers. With options like the 14x sword multiplier, the conservative 2x hat or bow multipliers, or the daring choice of staking on all three, players are treated to a whirlwind of excitement with each roll. The game's design is intuitive, with the "Last 100" section offering insights into the previous outcomes, aiding players in making informed decisions.
Chest Unboxing: A Treasure Hunter's Dream
The thrill of unboxing is brought to life in RuneStake's Chest Unboxing game. Players can choose from 50 unique Runescape chests, each holding items with varying token multipliers. The anticipation of revealing items that can yield up to a 1000x return on the initial bet keeps players on the edge of their seats. For those wary of diving right in, the demo spin feature offers a sneak peek into potential winnings.
Chest Battles: Player Versus Player Excitement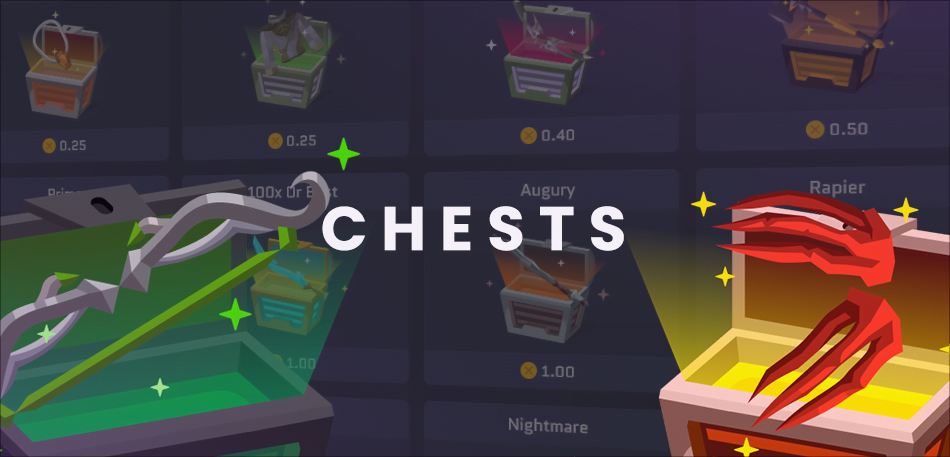 Chest Battles add a competitive edge to the joy of unboxing. Players can challenge others in Regular Battles, team up with friends for Team Battles, or indulge in a collaborative gaming experience with Group Unboxing. From dueling solo to joining forces with others, this game ensures that the adrenaline keeps pumping, with tokens aplenty for the taking.
Mines: Strategy Meets Luck
In Mines, players navigate a grid, uncovering tiles in hopes of avoiding hidden mines. Each successfully revealed tile multiplies the initial bet, allowing players to cash out with their accumulated winnings or risk it all for a higher reward. Strategy is key, as players must weigh the odds of hitting a mine against the allure of a higher multiplier.
Limbo: Predict and Win

Limbo is all about prediction. Players place their bet and select a multiplier, then watch as the game's multiplier counts up. If the game's multiplier exceeds the player's choice, they win. It's a simple yet enthralling game of anticipation.
Blackjack: The Classic Card Game
RuneStake's Blackjack brings the classic casino game to the digital realm. Players and the dealer strive to reach 21 points without busting. With options for main bets and exciting side bets, players can engage in multiple ways to maximize their winnings. From trying for a natural blackjack to placing bets on potential poker hand combinations, there's never a dull moment.
Duel Arena: Combat for Tokens
The Duel Arena offers a unique blend of combat and betting. Players link their OSRS account, stake their tokens, and then face off in intense duels. Equipped with an abyssal whip and governed by the "Whip Rules," combatants engage in fierce battles, with the victor claiming the tokens.
Dice: Roll for Riches
Dice is a straightforward game where players predict the outcome of a dice roll. By adjusting the odds and potential payout, players can play it safe or go for high stakes. The transparent game rules ensure that every roll is fair, rounding off to two decimal places, and offering multipliers ranging from a minimum of 1.0105x to a staggering 9600x.
RuneStake Rewards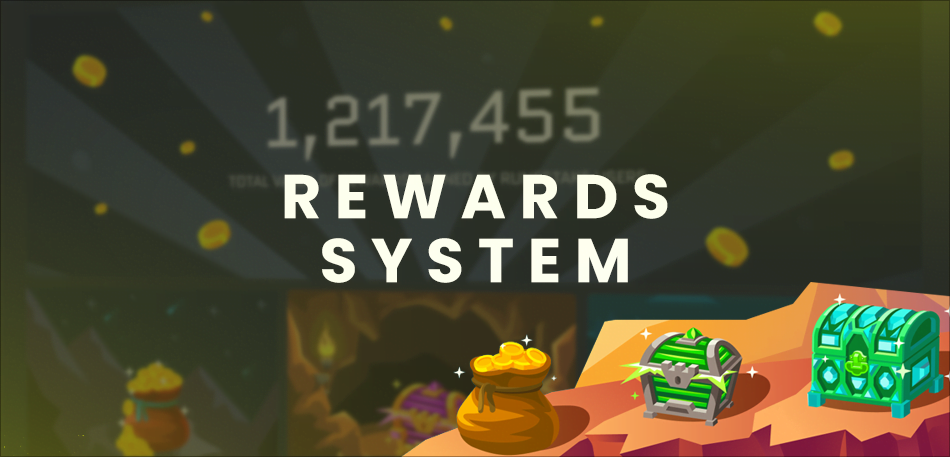 A Multifaceted Rewards Structure
RuneStake's rewards system isn't just about occasional perks; it's a multifaceted structure designed to continuously engage and reward its players. From the moment a player starts betting on the platform, they are introduced to a world of opportunities that could see them earn back significant portions of their wagers.
Promo Codes and Hourly Token Rains
These are immediate gratifications for the players. Promo codes offer direct token rewards, while the hourly token rains give players a chance at a lottery-style win every hour. The beauty of these features lies in their frequency, ensuring that players always have something to look forward to, keeping the platform engaging.
Level-Up and Milestone Rewards
RuneStake introduces gamified elements with its level-up rewards system. As players bet and interact more with the platform, they accumulate experience and climb up levels. Every level-up sees players awarded with case keys to unlock free rewards. When they hit specific level milestones, they are rewarded with caskets, which can unbox even larger prizes. This system ensures that the more a player interacts with RuneStake, the more they get rewarded, promoting long-term player engagement.
Rakeback: A Unique Spin on Cashback
Rakeback is perhaps one of the most intriguing reward elements on RuneStake. Players get back a percentage of the house edge on their bets, regardless of the outcome of their games. This system, which is broken down into daily, weekly, and monthly rewards, ensures that regular players see a consistent return on their wagers, making the betting experience more rewarding.
Chat Rain: Community Engagement with Rewards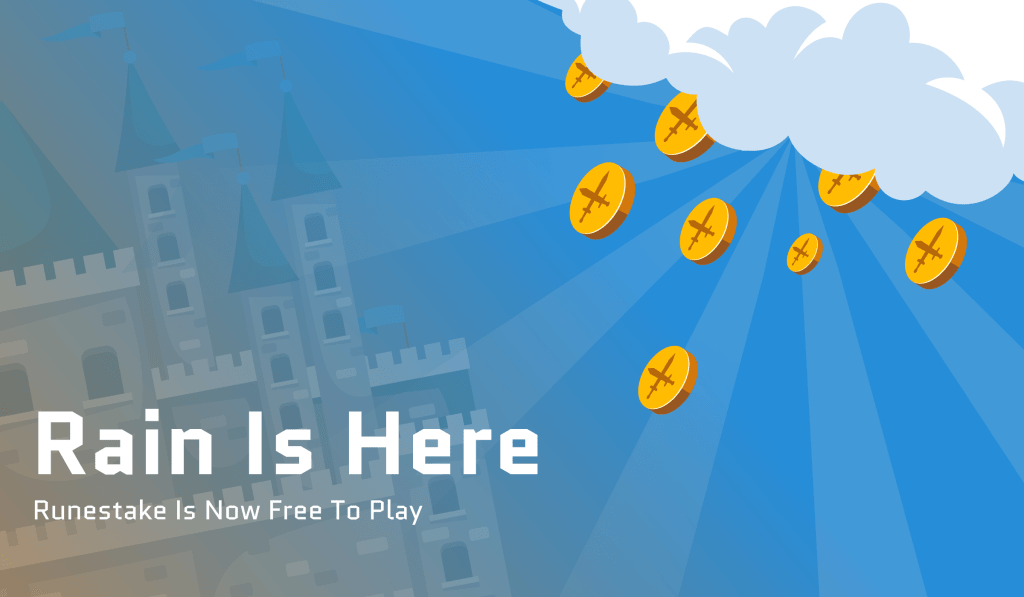 The Chat Rain feature stands out not just as a reward system, but also as a community engagement tool. Players can tip into a growing pool of rewards that get distributed hourly. This system promotes interaction among the community members and rewards active and dedicated players more, ensuring that players feel part of a larger RuneStake community.
Affiliate Program: Spreading the Word
RuneStake's affiliate program is another avenue for players to earn rewards. By referring new players, affiliates can earn up to 10% of the house edge on the bets placed by those they refer. This not only incentivizes players to introduce RuneStake to their friends but also ensures a constantly growing community.
RuneStake's Restricted Countries: A Focus on Compliance and Regulation
The Importance of Geo-Restrictions In the digital age, online gaming platforms like RuneStake can be accessed from virtually anywhere in the world. However, it's imperative for such platforms to respect and adhere to international laws and regulations. This is where geo-restrictions come into play. By restricting access from certain countries, RuneStake ensures that it remains compliant with various jurisdictions and legal landscapes.
A Diverse List of Restricted Countries RuneStake's list of restricted countries is extensive, encompassing nations from multiple continents. This restriction isn't arbitrary. Each country has its own set of laws and regulations concerning online gaming, gambling, and financial transactions. Some nations, like Afghanistan and North Korea, have strict regulations and bans on all forms of gambling. Others, like the United Kingdom, have a regulated environment where operators need specific licenses to offer their services.
The Implications for Players For players residing in any of the restricted countries, it means they cannot register or use the services provided by RuneStake. This is a protective measure for both the platform and the players. Engaging in online gaming activities from a jurisdiction where it's illegal can lead to severe consequences for the player, including legal penalties.
Why Washington State? It's worth noting that while the United States isn't entirely on the restricted list, Washington State specifically is. This is due to Washington's particularly stringent laws regarding online gambling. The state has outlawed online gambling activities, and RuneStake's decision to restrict users from this state is a nod to their commitment to adhering to local laws.
An Ever-Evolving Landscape The world of online gaming and gambling is ever-evolving. As countries change their regulations, the list of restricted countries on platforms like RuneStake might change as well. This highlights the importance for players to stay updated with their local regulations and the platform's terms of service.

RuneStake's Deposit and Withdrawal Options: A Glimpse into User-Centric Finance
A Diverse Array of Deposit Methods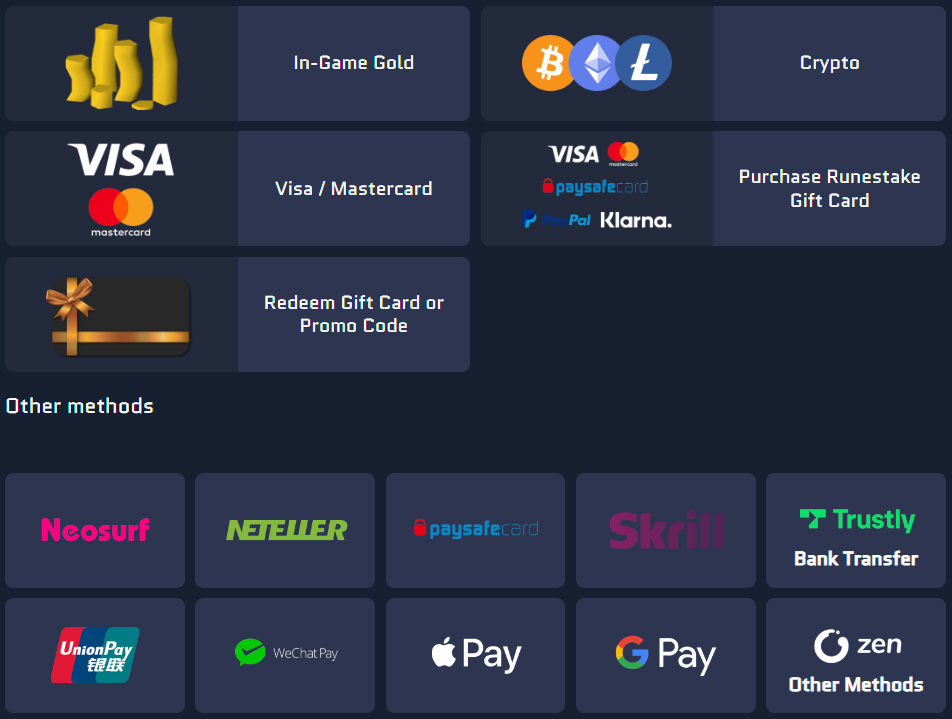 RuneStake recognizes the varied financial preferences of its global user base. To cater to these preferences, the platform offers a wide range of deposit methods, ensuring that users can effortlessly fund their accounts. From traditional gaming currencies like Runescape Gold to modern digital currencies such as Bitcoin, Ethereum, and Litecoin, RuneStake embraces both the past and the future of online transactions.
Beyond cryptocurrencies, RuneStake also accommodates those who prefer conventional fiat payment methods. Through a strategic partnership with the payment provider Kinguin, users can make deposits using popular methods like PayPal, Visa, Mastercard, Bank Transfer, Paysafe, and even Neosurf. This diversity in deposit options ensures that users, regardless of their financial orientation, can seamlessly integrate into the RuneStake ecosystem.
Navigating Cryptocurrency Deposits
For newcomers to the cryptocurrency realm, RuneStake offers guidance on acquiring these digital assets. With references to renowned exchanges like Coinbase, Binance, Kraken, and Gemini, users are equipped with the resources to purchase their desired cryptocurrency and transfer it to their RuneStake account. This proactive approach ensures even the least tech-savvy users can navigate the cryptocurrency deposit process with ease.
Efficient and Secure Withdrawals

RuneStake's commitment to user satisfaction extends to its withdrawal processes. The platform currently facilitates withdrawals in both Runescape Gold and popular cryptocurrencies, ensuring users can access their winnings in their preferred format. The security protocols in place ensure that all transactions are not only swift but also secure, offering peace of mind to users.
Understanding Wagering Requirements
It's essential for users to be aware of RuneStake's wagering requirements before initiating withdrawals. To combat potential fraud and money laundering, RuneStake mandates users to wager an amount equivalent to their deposit before proceeding with a withdrawal. This stipulation is a standard practice in the online gaming world, ensuring the platform's integrity and adherence to global financial regulations.
Advantages of using RuneStake:
Diverse Gaming Portfolio: RuneStake offers a wide variety of games, from classic card games like Blackjack to unique offerings like Chest Battles and Mines. This ensures that players always have something new and exciting to explore.
Robust Reward System: The platform's reward system, which includes rakebacks, cases, caskets, and chat rain, ensures that players are constantly rewarded for their engagement, making it one of the most rewarding platforms for users to bet Runescape gold.
Transparency and Fairness: With clearly defined game rules and an emphasis on fairness, RuneStake ensures that every game is transparent, giving players confidence in the platform's integrity.
Secure Transactions: RuneStake offers multiple deposit and withdrawal methods, including cryptocurrencies, ensuring secure and seamless financial transactions for its users.
Active Community Engagement: With daily giveaways on platforms like Discord and Twitter, RuneStake actively engages with its community, fostering a sense of belonging among its users.
Areas of Potential Improvement:
Customer Support: While RuneStake offers email and live chat support, there have been mentions of slower response times, especially for email inquiries. Introducing more immediate support channels or improving response times can enhance user experience.
Limited Accessibility: RuneStake restricts access to residents of numerous countries, including significant markets like the United Kingdom and Russia. Exploring licensing options or alternative operational models might allow them to tap into these markets.
Interface Enhancements: While the platform offers a plethora of games, refining the user interface or offering a more intuitive design can further enhance the gaming experience.
Educational Resources: Given the variety of games and betting options available, providing tutorials, how-to guides, or educational resources can help newcomers get acquainted faster.
Mobile Experience: With the growing trend of mobile gaming, RuneStake might benefit from optimizing their platform for mobile use or even introducing a dedicated app for a seamless gaming experience on-the-go.
No Self-Exclusion Option: RuneStake currently lacks a self-exclusion feature, which is crucial for promoting responsible gaming. Implementing a self-exclusion mechanism would allow players to take breaks or set limits on their gaming activities, ensuring a safer gambling environment.
| Aspect | Details |
| --- | --- |
| Platform Name | RuneStake |
| Website | https://runestake.com/r/CS2BET |
| Owned By | Yellowbrick Holdings Limited |
| Registered Address | 2118 Guava Street, Belama Phase, Belize City, Belize |
| Games Offered | Slide, Chest Unboxing, Chest Battles, Mines, Limbo, Blackjack, Duel Arena, Dice |
| Deposit Methods | RuneScape Gold, Bitcoin, Ethereum, Litecoin, PayPal, Visa, Mastercard, Bank Transfer, Paysafe, Neosurf |
| Withdrawal Methods | RuneScape Gold, Bitcoin, Ethereum, Litecoin |
| Rewards Given | Over 1 million tokens ($500,000) |
| Restricted Countries | Afghanistan, Algeria, Angola, and more |
| Customer Support | Email, Live Chat (No Phone Support) |
| Pros | Diverse game offerings, generous reward system, integration with RuneScape, unique PvP experiences |
| Cons | Limited customer support avenues, not accessible in certain countries, no self-exclusion feature |
| User Experience | Engaging design, intuitive interface, straightforward game rules |
| Overall Rating | 4.5 / 5 |
| Personal Verdict | A must-try for RuneScape enthusiasts and those looking for a unique online gaming experience with rewarding opportunities |
FAQ
---
How is the game fairness ensured in RuneStake?
RuneStake employs a provably fair system, ensuring that each game result is generated transparently and cannot be manipulated either by the platform or the player. Users can typically verify the fairness of each roll or game played.
What security measures does RuneStake implement to protect users' funds and data?
RuneStake utilizes state-of-the-art encryption protocols and security measures to ensure the protection of user funds and data. This includes Two-Factor Authentication (2FA) options for accounts, SSL encryption, and cold storage solutions for cryptocurrency deposits.
Can I use VPNs while accessing RuneStake?
While VPNs can provide added privacy, RuneStake discourages the use of VPNs, especially when accessing from restricted countries. Usage of VPN might result in account suspension due to terms of service violations.
How are the odds determined for each game on RuneStake?
Each game on RuneStake has its unique set of odds based on its rules and mechanics. For instance, in the Slide game, the Hat and Bow have equal chances, while the Swords option has a higher payout but lower win probability.
Are there any limits to deposits or withdrawals?
Deposit and withdrawal limits may vary based on the method chosen and any potential restrictions set by payment processors. Users should check the specific deposit/withdrawal method's details for exact limits.
How can I increase my affiliate tier on RuneStake?
Your affiliate tier can be increased based on specific metrics like the number of referrals and their betting activity. Regularly bringing in active players can make you eligible for a higher affiliate tier, offering more rewards.
Can I have multiple accounts on RuneStake?
No, multiple account creation is discouraged. Having more than one account can lead to suspension or banning of all associated accounts.
How is RuneStake different from other online betting platforms?
RuneStake uniquely integrates with RuneScape, offering a blend of traditional casino games and RuneScape-themed experiences. It also boasts a rich reward system that gives back a significant amount to its players.
Can I set betting limits or self-exclude from RuneStake if I feel I'm gambling too much?
Currently, RuneStake does not offer a self-exclusion feature. Players are encouraged to play responsibly and seek external tools or platforms if they wish to enforce self-limits or exclusions.
If I face issues or have disputes, how does RuneStake address them?
In the event of any issues, players are encouraged to reach out to the RuneStake support team via email or live chat. They aim to resolve disputes amicably and transparently, prioritizing user satisfaction.