RustClash: The Ultimate Haven for Rust Skin Enthusiasts
Introduction
As the first dedicated platform for Rust case services, RustClash has quickly risen to prominence, offering a unique blend of excitement and opportunity for gamers worldwide. This comprehensive RustClash case opening review will navigate you through the platform's offerings, from its diverse game modes to its robust security measures, ensuring you have all the knowledge at your fingertips before you embark on your Rust skin adventure.
In this bustling digital era, where online gaming platforms are plentiful yet often indistinguishable, RustClash breaks the mold with its specialized services for Rust enthusiasts. With a focus on detailed processes, user-friendly features, and a commitment to customer satisfaction, RustClash stands as a beacon for gamers seeking a secure and engaging environment to enhance their Rust gaming experience.
RustClash at a Glance
In the dynamic landscape of online gaming, RustClash emerged as a visionary platform in 2021, dedicated exclusively to Rust skins. It's not just a marketplace but a community hub where players from around the globe converge to indulge in the excitement of case openings. Operated by Rust Clash Entertainment Ltd, this platform has established itself as a reliable and innovative presence in the gaming industry, offering a seamless and immersive Rust experience.
Contacting RustClash is as straightforward as their gaming process. Whether you have inquiries about game modes, account issues, or transaction details, their customer service is ready to assist. With a commitment to transparency and user engagement, RustClash ensures that every player's journey is smooth and enjoyable, from the first case opening to the last.
Why RustClash Stands Out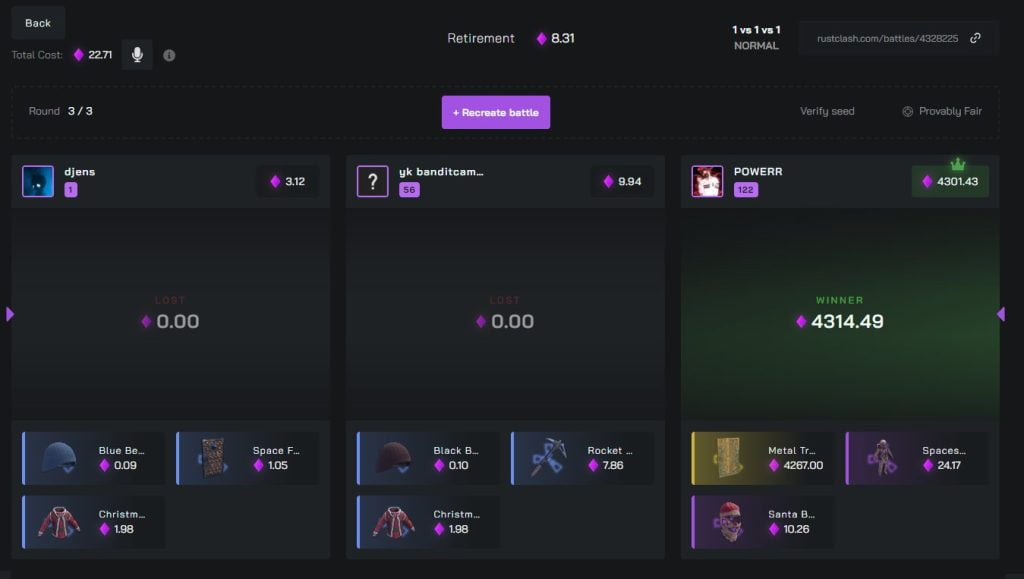 RustClash has earned its reputation as a standout platform in the Rust community for several compelling reasons. It's not just the first to offer specialized case-opening services; it's a platform where the thrill of gaming meets the assurance of security. Our in-depth exploration and review of RustClash revealed a system designed for fairness and fun, with a variety of game modes that cater to both the casual player and the competitive spirit.
Moreover, RustClash embraces the cutting edge of payment technology, accepting cryptocurrencies such as Bitcoin and Ethereum, alongside traditional payment methods. This forward-thinking approach extends to their customer support, with live chat features and a Discord server that fosters a vibrant community of gamers. It's this blend of innovation, safety, and community focus that places RustClash on our recommended list for Rust skin case openings.
Registration and Ease of Access
Stepping into the world of RustClash is as simple as it is exciting. A streamlined registration process invites you to log in with your Steam account, leading you to a realm where your Rust skins await. This hassle-free sign-in procedure is a testament to RustClash's understanding of gamers' desires for quick access and immediate gratification, allowing you to dive into the action without unnecessary delays.
Once registered, the platform's intuitive design guides you effortlessly through the deposit and game selection process. The user experience is paramount at RustClash, with a clear focus on minimizing barriers to entry so that players can spend less time navigating menus and more time enjoying the thrill of the game.
Diving into RustClash Games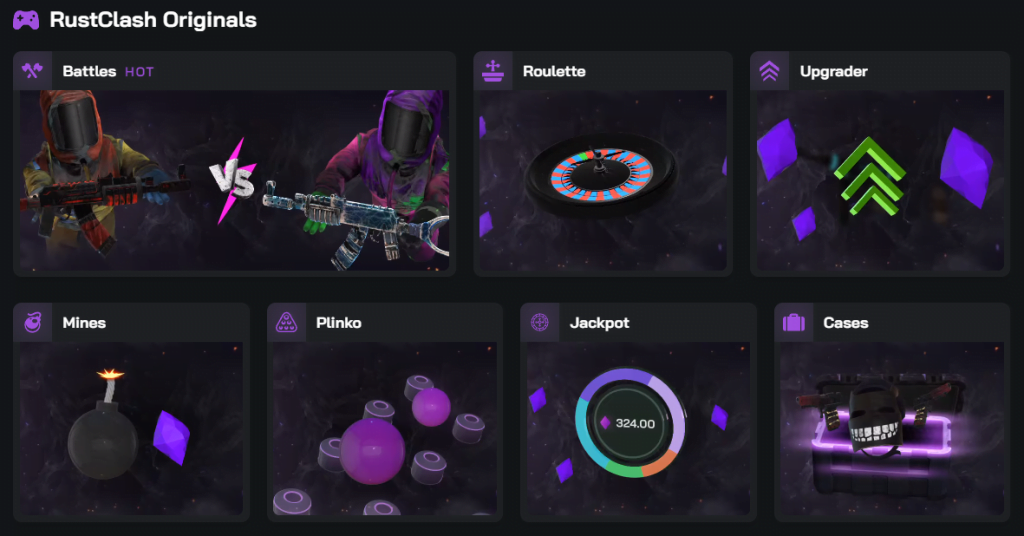 RustClash's gaming suite is a treasure trove for Rust enthusiasts. The case opening experience is designed to deliver both suspense and satisfaction, as players unveil a variety of skins from the comfort of their homes. Each game mode, from the classic Case Opening to the adrenaline-pumping Case Battles and the strategic Plinko, is crafted to provide a fair and engaging experience that keeps players returning for more.
The commitment to fairness is further underscored by the platform's provably fair system, which ensures that every outcome is the result of chance, not manipulation. Whether you're playing on a desktop or on the go with your mobile device, the quality and integrity of the games remain consistent. RustClash's dedication to fair play and transparency is not just a promise—it's a proven standard that all players can trust.
Battles and Upgrades: The Competitive Edge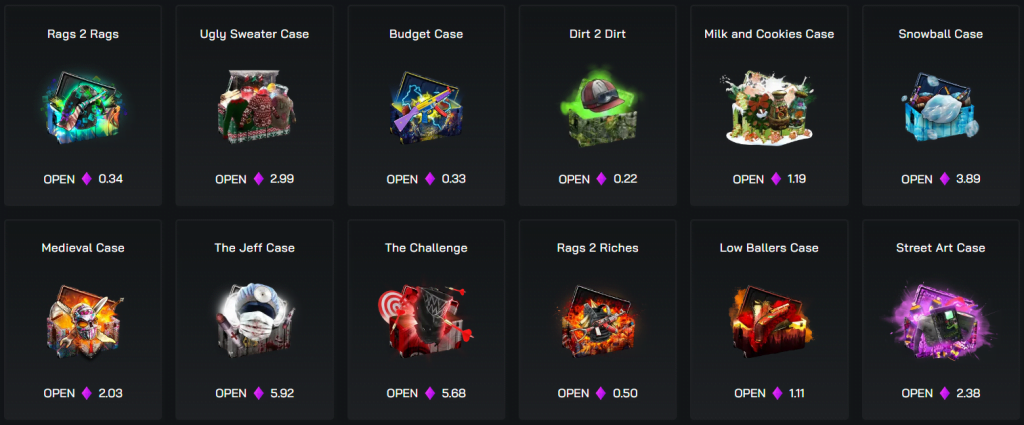 RustClash takes the excitement of gaming to new heights with its innovative 'Case Battles' feature. Here, players go head-to-head, each opening cases and vying for the highest value item. It's a thrilling blend of luck and strategy, where the stakes are high and the rewards even higher. The victor walks away with the spoils of the battle, adding an intense competitive layer to the traditional case opening experience.
The 'Upgrader' game mode offers a different kind of thrill. Players can attempt to elevate the value of their skins by selecting the desired upgrade level. It's a high-risk, high-reward scenario that requires nerve and judgment. While opting for a modest upgrade might offer better odds, the allure of a significant value increase is tempting. It's this delicate balance of risk and reward that makes the Upgrader a fan favorite.
House Edge: Understanding the Odds
In the world of online gaming, the house edge is an inevitable part of the ecosystem, and RustClash is transparent about its margins. Each game mode has a predefined house edge, ensuring players can make informed decisions. For instance, case openings and battles have a 10% house edge, while other games like Roulette and Mines have slightly lower edges. This transparency allows players to game with a clear understanding of their odds, fostering a trustful relationship between the platform and its users.
Knowing the house edge for each game mode not only helps in setting realistic expectations but also in strategizing bets. Whether you're indulging in the thrill of a 'Jackpot' or navigating the 'Mines', the disclosed house edges ensure that you're never in the dark about your chances. RustClash's commitment to fair play is evident in its open communication about the house edge, solidifying its reputation as a trustworthy gaming platform.
Site Layout & Design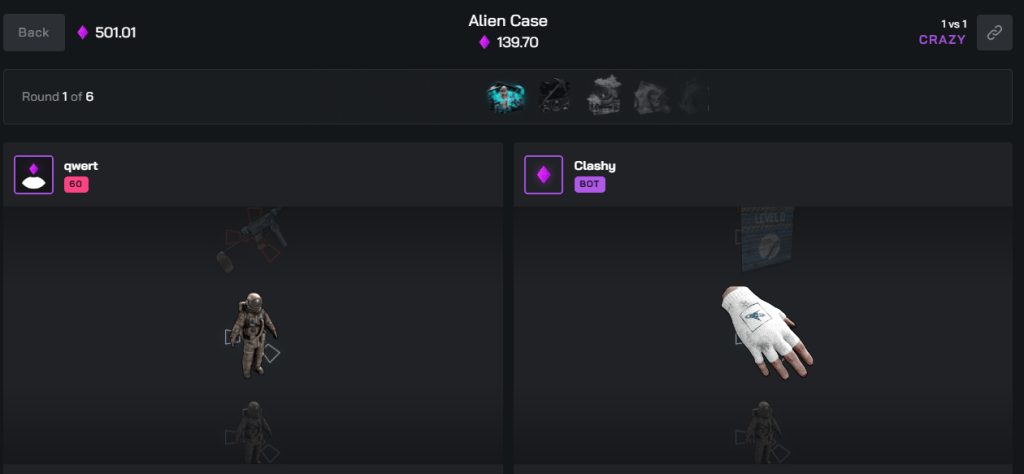 The aesthetic appeal of RustClash is matched by its functional design. The dark theme of the website is carefully chosen to reduce strain on the eyes during extended play sessions, and the color palette complements the Rust aesthetic. While the site is generally well-organized, there are occasional bugs, but these are quickly resolved, demonstrating RustClash's commitment to a seamless user experience.
The layout of the website is thoughtfully designed, with game modes and features easily accessible from the main menu. This user-centric design philosophy ensures that players can navigate the site with ease, whether they are looking to open a new case, join a battle, or simply explore the various options available. The combination of visual appeal and user-friendly design makes RustClash a platform that is as enjoyable to browse as it is to play on.
Languages and Accessibility: Breaking the Language Barrier
RustClash's commitment to inclusivity is exemplified by its support for multiple languages, making the platform accessible to a global audience. By offering services in English, Français, Deutsch, Español, Svenska, 中文, and Português, RustClash breaks down language barriers, creating a diverse and welcoming community of gamers. This multilingual support ensures that players from different parts of the world can navigate the platform with ease, understand the rules, and enjoy the gaming experience without language constraints.
The availability of customer support in these languages further enhances the user experience, ensuring that assistance is not only available but also understandable. RustClash's approach to accessibility goes beyond mere translation; it's about creating a gaming home for everyone, regardless of their language or location.
Provably Fair Games: Trust in Transparency
At the heart of RustClash's gaming philosophy is the provably fair system, a cornerstone of trust and transparency. This system utilizes cryptographic algorithms to ensure that game outcomes are entirely random and verifiable. Players have the reassurance of knowing that there is no manipulation of results, with each game's fairness verifiable through a unique hash number.
The provably fair system is not just a feature; it's a pledge of integrity from RustClash to its community. By providing players with the tools to verify the fairness of each game, RustClash fosters a transparent gaming environment. This commitment to fairness is a critical aspect of the platform's appeal, ensuring that the thrill of gaming is never overshadowed by doubt.
Banking and Payment Methods: Flexibility at Your Fingertips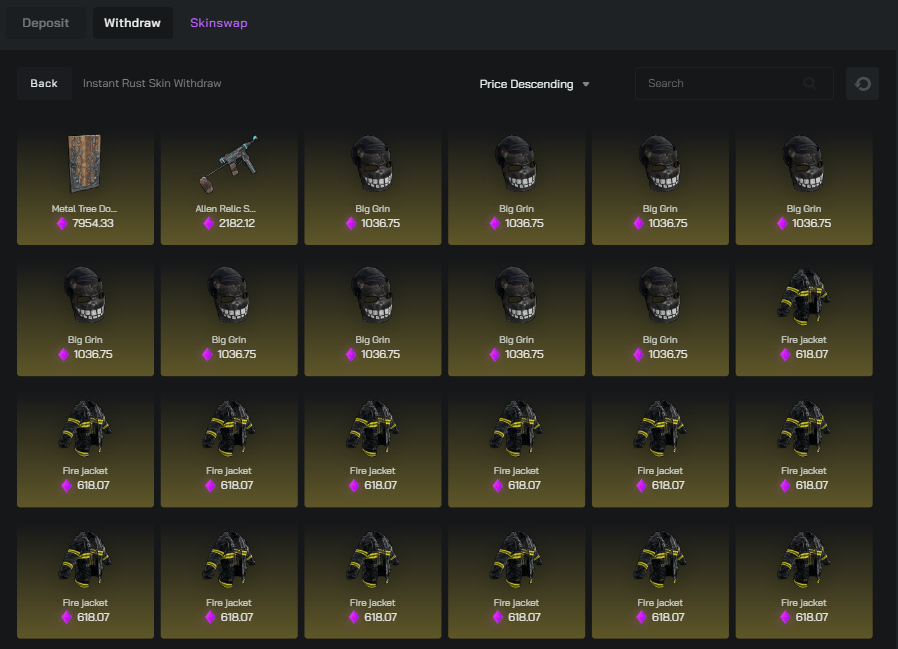 RustClash revolutionizes the banking experience for gamers by offering a plethora of payment methods. From traditional options like Visa and MasterCard to a variety of cryptocurrencies including Bitcoin, Ethereum, Litecoin, and Dogecoin, the platform caters to the diverse preferences of its users. The integration of skin trading adds another layer of flexibility, allowing players to deposit and withdraw using Rust skins, which is a unique feature that resonates with the gaming community.
The deposit process is streamlined and user-friendly, ensuring that players can fund their accounts with ease and start playing without delay. The withdrawal system is equally efficient, providing fast and secure transactions that maintain the integrity of the gaming experience. RustClash's banking system is designed with the user in mind, offering a seamless financial journey from deposit to withdrawal.
Withdrawal Methods: Ensuring Player Satisfaction
The satisfaction of cashing out winnings is paramount in the gaming experience, and RustClash understands this well. The platform's withdrawal methods are designed to be as flexible and convenient as the deposit options. Players can choose to withdraw their winnings in Rust skins directly to their Steam accounts, or opt for cryptocurrencies for a more traditional cash-out experience. For those who prefer fiat transactions, PayPal and Venmo are available, providing a comprehensive suite of options to meet every player's needs.
RustClash's withdrawal process is not only diverse but also swift, ensuring that players can enjoy their winnings with minimal wait time. This focus on player satisfaction through convenient and reliable withdrawal methods is a testament to RustClash's commitment to providing an exceptional gaming service.
Rakeback and Rewards: Enhancing the Gaming Experience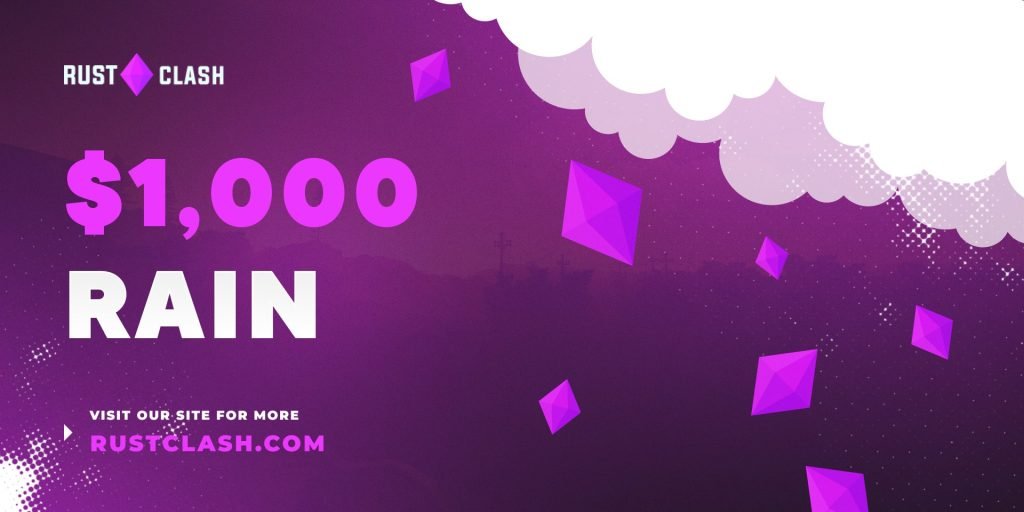 RustClash elevates the gaming experience with its rewarding Rakeback system and enticing bonuses. Players are incentivized to increase their tier level to earn more gems, with Rakeback percentages rising as they progress. This system not only rewards loyalty but also enhances the overall gaming experience by providing tangible benefits for continued play.
The platform's rewards and bonuses are not limited to Rakeback. Players can enjoy daily cases, participate in the RustClash Rain for a share of free funds, and compete on the leaderboard for additional prizes. These rewards are designed to keep the gaming experience fresh and exciting, ensuring that players have something to look forward to every time they log in.
Daily Cases and Bonus Codes: A Treasure Trove of Opportunities
RustClash's daily cases offer players a daily dose of excitement, with the opportunity to earn RustClash Gems. These gems can be used within the platform, adding an extra layer of engagement to the gaming experience. Additionally, the platform provides bonus codes, such as the exclusive code CS2BET, which grants a +5% bonus on deposits. This bonus code is a welcoming gesture for new players and a nod to the platform's appreciation for its user base.
The process of claiming RustClash's deposit bonus is straightforward, ensuring that players can easily take advantage of this offer. By using the provided link and redeeming the code, players can enhance their gaming journey on RustClash.com, starting off with a little extra in their gaming wallet.
Free to Play and KYC: A Balanced Approach
RustClash strikes a balance between accessibility and security with its Free to Play option, subject to KYC verification. This feature allows players to engage with the games without the need to deposit, opening the platform to a wider audience. The KYC process is a necessary security measure to ensure that all players are genuine, which maintains the integrity of the gaming environment.
The ability to play for free, combined with the same odds and fairness as depositing players, showcases RustClash's commitment to a fair and inclusive gaming experience. This approach not only respects the players' freedom to choose how they engage with the platform but also upholds the highest standards of security and fair play.

Customer Support: A Pillar of Trust
RustClash prides itself on a robust customer support system that stands as a pillar of trust for its community. The live chat option is a testament to their commitment to real-time assistance, ensuring that help is just a few clicks away, any time of the day. With support available in multiple languages, RustClash bridges the gap between cultures, making every player feel at home.
Beyond live chat, RustClash extends its support through email, with a dedicated team ready to tackle more complex issues that may arise. The FAQ section on the website is a treasure trove of information, providing clear and concise answers to common questions, allowing players to resolve issues swiftly without the need for direct contact. This multi-tiered approach to customer service underscores RustClash's dedication to a seamless gaming experience.
Ethical Gaming: A Code of Conduct
RustClash is more than a gaming platform; it's a community built on the principles of ethical gaming. The Code of Ethics is a declaration of the platform's commitment to integrity, respect, and responsibility. It's a promise to uphold the highest standards of conduct, ensuring a gaming environment that is fair, respectful, and free from harassment.
The platform's self-exclusion options and strict adherence to privacy and anti-harassment policies are a testament to its dedication to responsible gaming. RustClash's approach to ethical gaming is not just about following the rules; it's about fostering a community where everyone can enjoy the thrill of gaming in a safe, respectful, and responsible manner.
Mobile Experience: Gaming on the Go
RustClash's mobile experience is a testament to the platform's dedication to accessibility and convenience. The site's responsive design ensures that the transition from desktop to mobile is seamless, with all features and games functioning flawlessly on a variety of devices. The clarity of visuals and the smoothness of gameplay on mobile devices mean that players can enjoy their favorite games anytime, anywhere.
The superiority of the mobile platform is evident in its user-friendly interface and the absence of lags or crashes, making it a preferred choice for many players. RustClash's commitment to providing a consistent and high-quality mobile gaming experience is clear, ensuring that players have the freedom to game on their terms.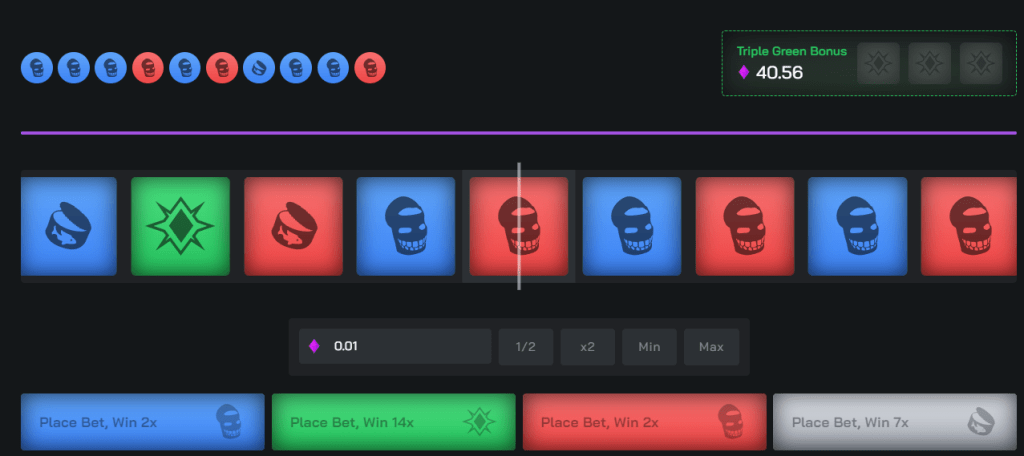 Security Measures: Your Safety, Our Priority
RustClash's security measures are rigorous and comprehensive, ensuring that players can enjoy their gaming experience with peace of mind. The platform's SSL certificate is a bulwark against potential security threats, safeguarding personal information and transaction details. The mandatory identity verification process further fortifies the platform's defenses, keeping the gaming environment free from fraudulent activities.
The security at RustClash is not just about protecting data; it's about maintaining a safe space for gamers. The platform's dedication to security is unwavering, with continuous updates and improvements to its protective measures. Players can trust that RustClash is not only a place for fun and excitement but also a secure platform where their safety is the top priority.
Is RustClash Safe?
When it comes to online gaming platforms, the paramount question on every player's mind is: Is it safe? Our in-depth analysis of RustClash affirms that safety is a cornerstone of their service. With state-of-the-art encryption technology safeguarding every transaction, and a robust anti-cheat system in place, RustClash provides a fortress for your gaming endeavors. The platform's adherence to the 'Know Your Customer' policy further reinforces its commitment to security, ensuring that all players on the platform are verified, reducing the risk of fraudulent activities.
The safety measures extend to the gameplay itself. With a provably fair system, RustClash guarantees that the outcome of every game is random and unbiased, fostering a gaming environment where fairness is the rule, not the exception. This level of dedication to security and fair play makes RustClash a beacon of trust in the online gaming world, allowing players to engage with their favorite games with confidence and peace of mind.
RustClash Trustpilot Score and User Reviews

RustClash has established a commendable presence on Trustpilot, a testament to its commitment to user satisfaction and community building. With a TrustScore of 3.7 out of 5, RustClash has garnered a mix of feedback, but the positive experiences shared by users are particularly noteworthy.
Bravo_Charly from the US highlights the platform's customer service, giving RustClash a full 5-star rating. They mention, "always helpful, love your chat guys truly care about all the people there talking too," reflecting the platform's dedication to responsive and caring support. Their experience on November 2, 2023, underscores the platform's ability to make a lasting positive impression on its users.
Basam Gamer from Iraq echoes this sentiment, sharing an exhilarating success story of turning a $1 gamble into a $90 cashout in a battle, showcasing the platform's potential for high returns and fun. Their 5-star review dated October 31, 2023, adds to the narrative of RustClash being an engaging and rewarding experience.
Ron Sutton, also from the US, describes RustClash as "a true family community." His review from October 12, 2023, speaks volumes about the platform's ability to foster a supportive environment, stating, "Willing to help beyond the website they care more about people than a game a true family here I'll never leave it."
From Israel, Coconut emphasizes the quick and comprehensive support provided by RustClash. They share a cautionary yet positive message, "The support is really quick and giving full answers I won $100 in 5m but make sure only to gamble what u can afford to lose," dated October 2, 2023. This review not only highlights the platform's efficiency but also promotes responsible gambling.
James Burns from the US offers a 5-star review that delves into the importance of responsible gambling. On August 23, 2023, he shares his personal journey with gambling addiction and the significance of self-responsibility, praising RustClash for offering a fun gambling experience within a responsible framework.
Lastly, Valentino, another US user, commends the staff's quick action against disruptive behavior in the chat, enhancing his site experience. His review from September 3, 2023, ends with a humorous and personal shoutout to a staff member, adding a touch of personality to his feedback.
Despite the overall average TrustScore, the 51% 5-star ratings indicate a strong foundation of satisfied customers. The detailed positive reviews on Trustpilot reflect the platform's strengths in community care, customer support, and responsible gaming practices, making RustClash a noteworthy contender in the online gaming arena.
Our Verdict
After thorough exploration and testing, our verdict on RustClash is overwhelmingly positive. The platform's dedication to providing a specialized, secure, and enjoyable gaming experience for Rust enthusiasts is evident in every aspect of its operation. While there are areas for improvement, such as occasional site bugs and the desire for more game modes, the positives far outweigh the negatives.
RustClash's innovative features, commitment to fair play, and robust security measures make it a commendable choice for gamers. Whether you're a seasoned Rust player or new to the world of skin gambling, RustClash offers a platform that is both trustworthy and thrilling. With potential for growth and a solid foundation, RustClash is well on its way to becoming a leading name in online gaming.
Category
Details
Website
RustClash.com
Launch Year
2021
TrustPilot Score
3.7 out of 5
Key Features
– Case Openings
-Case Battles
– Upgrader
– Plinko
Deposit Methods
– Visa
– MasterCard
– Cryptocurrencies (Bitcoin, Ethereum, Litecoin, DogeCoin)
– Rust Skins
Withdrawal Methods
– Rust Skins
– Bitcoin
– Litecoin
– PayPal
– Venmo
Games Available
– Case Opening
– Case Battles
– Upgrader
– Jackpot
– Plinko
– Roulette
– Mines
Customer Support
– Live Chat (24/7)
– Email Support
– Multiple Languages Supported
Security Measures
– SSL Encryption
– KYC Verification
– Provably Fair Games
Bonuses & Rewards
– Rakeback Tiers
– Daily Cases
– Chat Rain
– Leaderboard Prizes
Responsible Gambling
– Self-exclusion options
– Support for gambling addiction
Mobile Compatibility
Yes, fully functional on mobile devices
Languages Supported
– English
– French
– German
– Spanish
– Swedish
– Chinese
– Portuguese
Overall Rating
Recommended for Rust skin gambling enthusiasts

Pros of RustClash
Dedicated Rust Skin Services:
RustClash specializes in Rust skins, offering a tailored experience for enthusiasts of the game.
Variety of Games:
A range of game modes like Case Opening, Case Battles, Upgrader, Jackpot, Plinko, Roulette, and Mines cater to different preferences.
Multiple Deposit Options:
Supports various deposit methods including credit cards, multiple cryptocurrencies, and Rust skins, providing flexibility for users.
Provably Fair System:
The platform ensures fairness and transparency with a provably fair system, instilling trust in the game outcomes.
Active Community and Support:
A responsive live chat, email support, and a community-oriented approach with leaderboards and interactive features.
Mobile Compatibility:
The site is optimized for mobile devices, allowing players to engage with the platform on the go.
Bonuses and Rewards:
Offers Rakeback, daily cases, and other rewards to enhance the user experience.
Responsible Gambling:
Promotes responsible gambling with self-exclusion options and support for gambling addiction.
Multilingual Support:
The platform caters to a global audience with support for multiple languages.
Cons of RustClash
Mixed User Reviews:
While many users report positive experiences, the TrustScore indicates that there is a significant portion of users who have had less satisfactory interactions.
Limited Game Variety:
The focus on Rust skins means that the platform may not appeal to those looking for a broader range of betting options or games.
Potential for Technical Issues:
Some users have reported occasional bugs and glitches on the site, though these seem to be infrequent.
Withdrawal Limitations:
Withdrawal options are somewhat limited compared to deposit methods, which might inconvenience some users.
Niche Focus:
The exclusive focus on Rust skins and related services means that it may not attract users interested in a more diverse gaming or betting experience.
By weighing these pros and cons, potential users can better understand what RustClash has to offer and decide if it aligns with their interests and needs in online gaming and skin gambling.
FAQ
What is RustClash and what does it offer?
RustClash is an online platform that specializes in Rust skin gambling, offering games like case openings, case battles, and upgrader. It provides a safe and fair gaming environment with a focus on Rust skins.
How do I start playing on RustClash?
To start playing on RustClash, visit their website and log in using your Steam account. After logging in, you can deposit funds or skins and begin playing the available games.
Is RustClash safe to use?
Yes, RustClash employs advanced SSL encryption and follows a "Know Your Customer" policy to ensure user safety and security. It also has a provably fair system to guarantee the fairness of games.
Can I play games on RustClash for free?
RustClash offers a "Play For Free" option where you can complete KYC verification to join chat rain and open a free case every day, allowing you to play without making a deposit.
What are the deposit methods available on RustClash?
RustClash accepts various deposit methods including Rust Skins, Visa, MasterCard, cryptocurrencies like Bitcoin and Ethereum, and more.
How does the RustClash rewards system work?
RustClash offers various rewards and bonuses such as daily cases, rakeback, and leaderboard prizes. Players can earn rewards by playing games, leveling up, and participating in community events.
Can I access RustClash on my mobile device?
Yes, RustClash is optimized for mobile devices, providing a seamless gaming experience on both smartphones and tablets.
What should I do if I encounter a problem on RustClash?
If you face any issues on RustClash, you can contact their customer support via live chat or email. They offer assistance in multiple languages and strive to resolve issues promptly.
Are there any restrictions on withdrawals at RustClash?
Withdrawals at RustClash must be done using the same method as deposits, and there may be minimum withdrawal limits. For detailed information, refer to the platform's withdrawal policy.
How does RustClash ensure responsible gaming?
RustClash offers a self-exclusion feature for players to temporarily disable their accounts to prevent excessive gaming. They also enforce a Code of Ethics to promote fair and responsible gaming.