RustStake Review 2023: A Deep Dive into the Exciting World of Rust Gambling
RustStake entered the online gaming arena in 2021, under the stewardship of SCHMELBAL LTD. From its inception, platform was not just another addition to the online gambling landscape; it was a platform with a mission. This mission was to merge the thrill of gaming with real opportunities for players, particularly those interested in Rust, a popular survival game known for its unique skin trading feature.
In its early days, RustStake faced the typical challenges of any new platform – gaining user trust and building a community. Despite a slow start, where days would pass without significant user activity, RustStake's commitment to quality and user experience began to pay off. The platform started gaining traction, transforming from a quiet corner in the online gambling world to a bustling hub for Rust enthusiasts.
A Unique Approach to Rust Skins Gambling
What sets RustStake apart in the crowded online gambling space is its focus on Rust skins. Unlike traditional online casinos that deal with standard currencies or cryptocurrencies, RustStake tapped into the niche market of Rust skin gambling. This unique approach not only attracted Rust players but also created a new avenue for gambling enthusiasts looking for something different.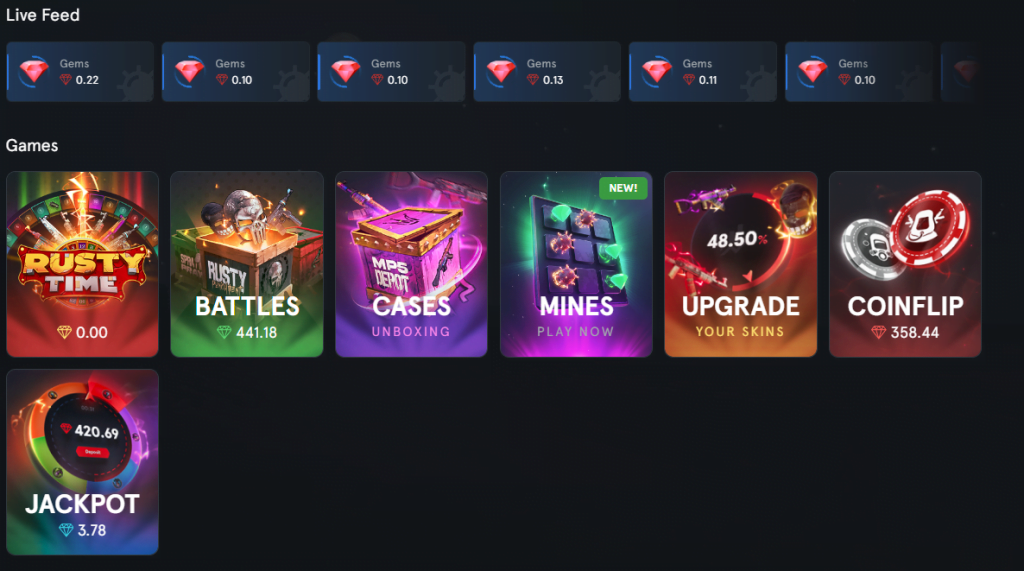 RustStake in the Competitive Landscape
As of 2023, RustStake stands as a notable player in the online gambling market. Its rise can be attributed to several factors:
Game Variety: Website offers an impressive array of games, including Coin Flip, Jackpot, and the innovative Rusty Time. This variety caters to a broad spectrum of preferences and keeps players engaged with fresh content.
User Experience: The platform's design is intuitive and user-friendly, making it accessible to both seasoned gamblers and newcomers. This ease of use is a significant advantage in retaining users and attracting new ones.
Customer Support and Security: With robust customer support via Discord and stringent security measures, RustStake ensures a safe and supportive environment for its users.
Promotions and Bonuses: Generous offers and promotions, such as the 5% deposit bonus and the Rusty's Rakeback Program, add an extra layer of excitement for players.
Delving into RustStake's Gaming Universe
RustStake, as a prominent platform in the Rust skin gambling scene, offers a diverse array of games that cater to different player preferences. Each game not only provides a unique form of entertainment but also showcases the platform's commitment to variety and user engagement. Here's a closer look at the games available on RustStake:
Jackpot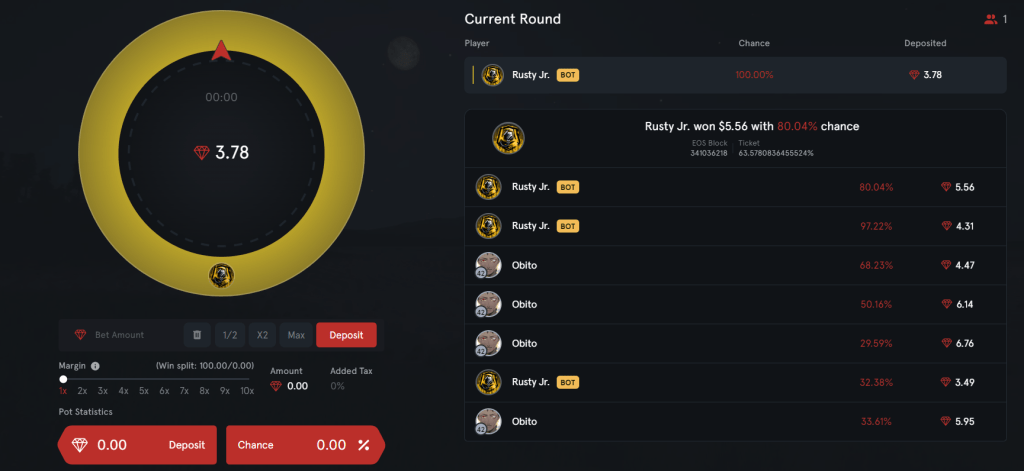 Gameplay: Jackpot is essentially a lottery-style game where players deposit skins into a pot. Each player's chance to win the pot is proportional to the value of their deposit.
Strategy and Excitement: This game is perfect for those who enjoy the thrill of high stakes and the excitement of potentially winning big with a small investment.
Upgrade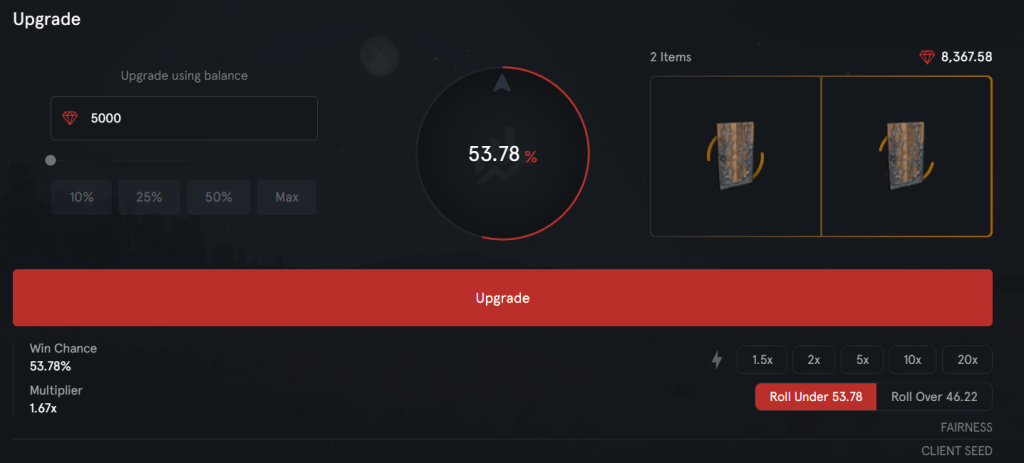 Mechanics: In Upgrade, players select an item and attempt to upgrade it to a more valuable one by choosing a multiplier. The higher the multiplier, the lower the chance of success.
Appeal: It's a hit for players who enjoy a risk-reward balance and the excitement of potentially turning a lesser item into something much more valuable.
Cases
Concept: Cases are a straightforward game where players open cases containing random items. Each case has different items and odds.
Attraction: Ideal for those who love the surprise element and the possibility of uncovering rare items.
Battles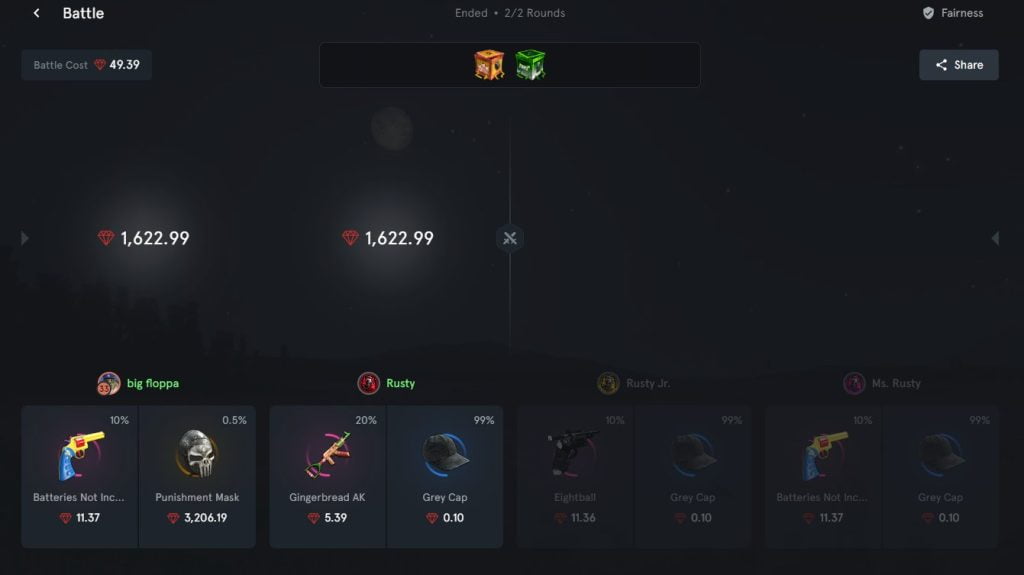 Format: Battles elevate the case opening experience. Players select cases and compete against others, with the winner taking all the items.
Competitive Edge: This mode is great for players who enjoy direct competition and the thrill of pitting their luck against others.
Rusty Time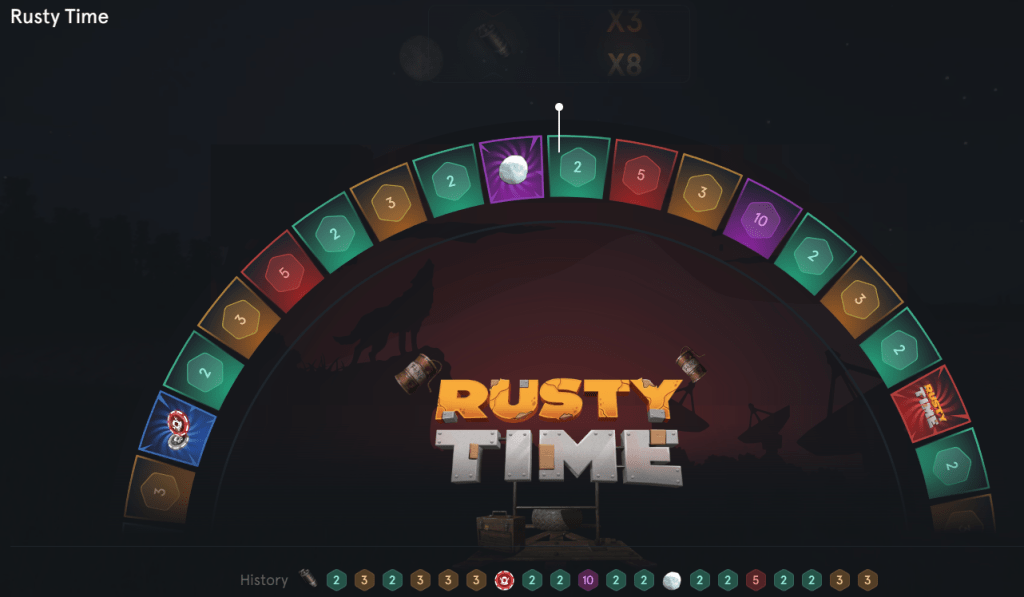 Game Design: Rusty Time is a unique game featuring a mix of regular multiplier tiles and bonus game tiles. Players select tiles and wait for the wheel to spin, hoping it lands on their chosen tile.
Unique Experience: This game stands out for its blend of strategy and luck, appealing to players who enjoy a more interactive and engaging gambling experience.
Mines
Gameplay: Mines is a high-risk, high-reward game where players navigate a minefield. Each safe step increases the multiplier, but hitting a mine ends the game.
Thrill Factor: Perfect for thrill-seekers who enjoy a tense and potentially highly rewarding experience.
RustStake's game offerings are a testament to its dedication to providing a varied and engaging gambling experience. From the high-stakes excitement of Jackpot to the strategic gameplay of Mines, there's something for every type of player. The platform's commitment to variety ensures that users have a fresh and exciting experience each time they visit. Whether you're a seasoned gambler or new to the world of Rust skin betting, RS game portfolio offers a rich and diverse gaming experience.
Deposit and Withdrawal Methods at RustStake
Understanding the deposit and withdrawal methods is crucial for any online gambling platform. Website offers a variety of options catering to the diverse preferences of its users. Here's a detailed look at these methods:
Deposit Methods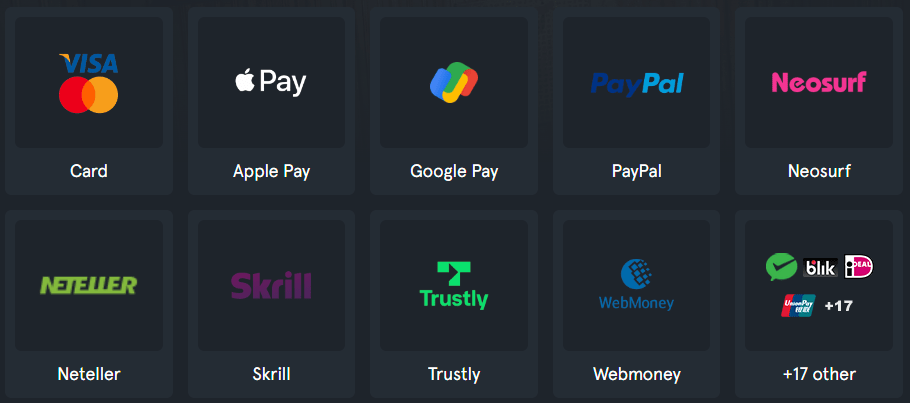 RustStake provides a wide range of deposit options, ensuring that users can easily fund their accounts. The available methods include:
Rust Skins: Directly use your Rust game skins as a form of currency.
Skinify: A platform for trading and using game skins.
Credit/Debit Card: Traditional and widely used, offering convenience.
Digital Wallets: Including Apple Pay, Google Pay, PayPal, Skrill, Neteller, and Webmoney.
Prepaid Cards: Such as PaySafeCard, offering secure and anonymous transactions.
Bank Transfers: Trustly provides a direct link to your bank account for transactions.
Cryptocurrencies: Bitcoin, Ethereum, Litecoin, USDT, USDC, BNB, Dogecoin, and Tron, catering to the growing demand for crypto transactions.
These diverse options ensure that users from different regions and with varying preferences can easily participate in RustStake's offerings.
Withdrawal Methods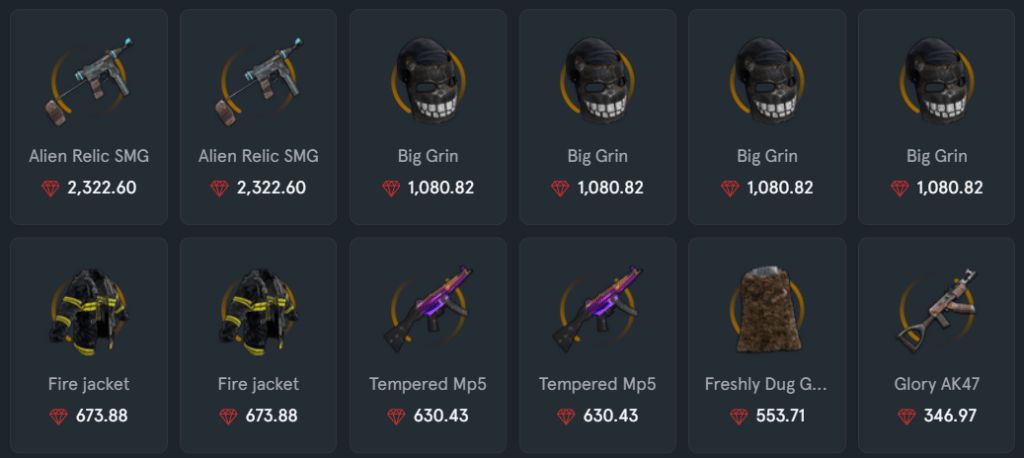 When it comes to cashing out, RustStake ensures a smooth and secure process. The available withdrawal methods are:
Bitcoin: A popular cryptocurrency offering anonymity and global acceptance.
Ethereum: Another widely-used cryptocurrency known for its security.
Litecoin: A faster alternative to Bitcoin, with lower transaction fees.
Rust Skins: Withdraw your earnings in the form of Rust game skins.
The inclusion of multiple cryptocurrencies as withdrawal options highlights RustStake's commitment to modern, secure, and efficient transaction methods. It's important to note that the speed and efficiency of withdrawals can vary based on the method chosen. Cryptocurrency transactions are typically faster than traditional banking methods.
Promotions and Bonuses: Maximizing Value at RustStake
RustStake isn't just about the thrill of the game; it's also a treasure trove of promotions that add an extra zing to your gaming experience. Whether you're a seasoned player or new to the scene, these promotions are like the cherry on top, making every visit to RustStake a little more special. Let's dive into what's on offer:
Leaderboards: A Race for Glory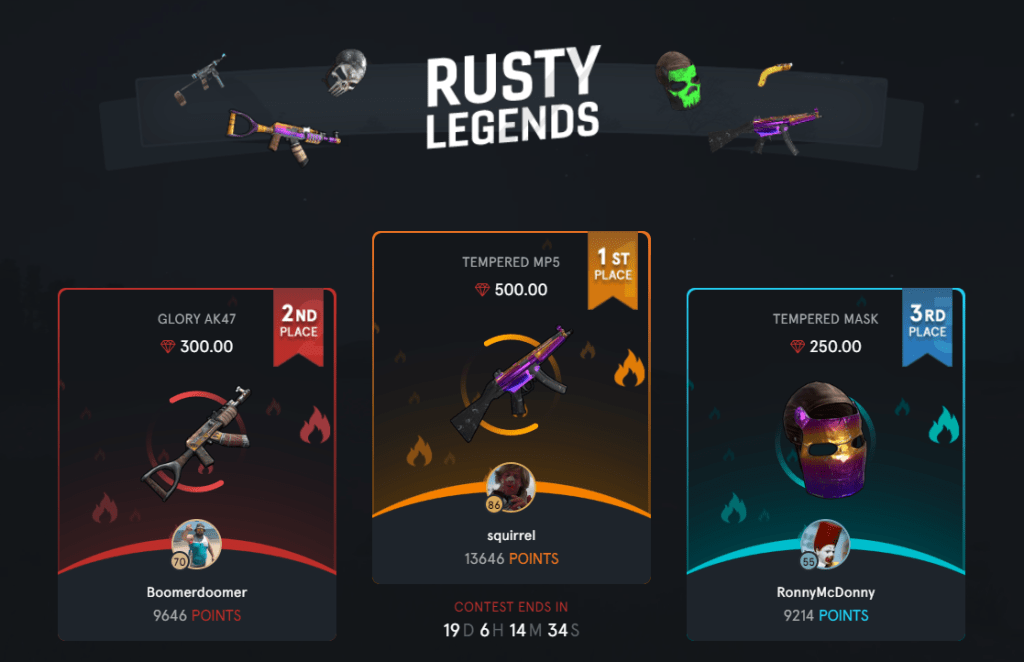 Daily, Weekly, Monthly Thrills: Imagine climbing up a leaderboard, where every game you play nudges you higher. That's the adrenaline rush RustStake offers with its daily, weekly, and monthly leaderboards.
Rewards Galore: Depending on where you land at the end of the race, you could pocket anything from a few credits to a whopping 500! It's like a gaming marathon where everyone has a shot at the prize.
The Power of Referrals: Affiliates Program
Spread the Word, Reap Rewards: Got friends who love gaming as much as you do? RustStake's Affiliates Program turns your social circle into a goldmine. Every time your referrals play, your earnings tick up.
More Friends, More Fortune: It's simple – the more pals you bring into the RustStake family, the more you earn. It's like being rewarded for having a great gaming gang!
Boost Your Play: 5% Deposit Bonus
Instant Value Add: Use the magic code CS2BET, and voila! You get a 5% boost on your deposits. It's like giving your gaming wallet a little high-five.
A Welcome Surprise: Whether you're topping up your account for a long gaming session or just dropping in for a quick play, this bonus is like a warm welcome every time.
Faucet: The Gift That Keeps on Giving
Freebies on the Clock: Every 30 minutes, RustStake hands out a free 0.10 balance. It's like finding coins under the sofa cushions, but way more frequent and fun!
Easy-Peasy Conditions: A small deposit, a tiny balance, a quick name add, and a Discord join – that's all it takes to keep the freebies flowing.
Rusty's Rakeback Program: Play More, Earn More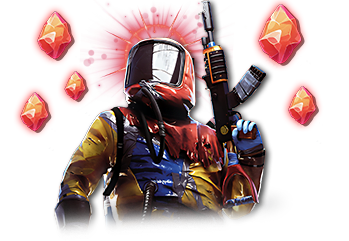 Gems Galore: The more you play, the more gems you collect. It's like a loyalty card, but instead of coffee, you're earning shiny gems.
Claim It or Accumulate It: Whether you want instant gratification or you're saving up for a big reward, Rusty's Rakeback adapts to your style.
Level Up: Rewards for the Dedicated
Play, Earn, Repeat: Every game at RustStake isn't just about winning or losing; it's about moving up in the world. With each level you climb, free Rust items await.
The Gamer's Journey: It's not just a game; it's a journey. Each level is a milestone, each reward a badge of honor.
RustStake's promotions are like a box of chocolates – there's something for everyone, and each one is a delightful surprise. Whether you're in it for the competition, the camaraderie, or just the sheer joy of gaming, these promotions add a layer of excitement and reward that makes RustStake more than just a gaming site. It's a gaming adventure. So, gear up and dive into the action – who knows what rewards await you around the corner!
Community and Social Engagement: The Social Aspect of RustStake
Social Media Presence: Connecting with Users
In the digital age, a robust social media presence is crucial for any online platform, and RustStake understands this well. RustStake actively engages with its community through various social media platforms, primarily Twitter and Discord. These platforms serve as vital channels for RustStake to connect with its users, provide updates, and foster a sense of community.
Twitter Engagement:
On Twitter, RustStake keeps its followers updated with the latest news, game updates, and promotional offers. It's not just about broadcasting information; RustStake uses Twitter to interact with its community. Through regular tweets, retweets, and responses to user comments, RustStake maintains a dynamic and responsive presence, making users feel heard and valued.
Discord Community:
Discord stands out as a more interactive platform for RustStake. Here, users can join the Discord server to engage directly with the team and other players. This platform is used for support queries, discussions about games, sharing experiences, and even for direct feedback on the platform. The Discord server acts as a digital gathering place for the RustStake community, fostering a sense of belonging and camaraderie among users.
Responsible Gaming: Promoting Safe Gambling Practices at RustStake
Self-Exclusion and Limits: Tools for Responsible Gaming
RustStake recognizes the importance of responsible gaming and offers various tools to help players manage their gambling activities effectively. Understanding that gambling can be a source of entertainment but also a potential risk, RustStake provides mechanisms for players to control their gaming behavior.

Self-Exclusion Options: One of the most significant features RustStake offers is the self-exclusion option. This tool allows players to take a break from gambling by locking themselves out of their account for a predetermined period. During this time, access to the RustStake platform is completely restricted, ensuring that players can take the necessary time away from gambling without the temptation to return prematurely. This feature is particularly beneficial for those who feel they need a hiatus from gaming to focus on other aspects of their life or for those who recognize the onset of problematic gambling behaviors.
Setting Personal Limits: In addition to self-exclusion, RustStake enables players to set personal limits on their gambling activities. These can include deposit limits, loss limits, and session time limits. By setting these boundaries, players can control the amount of money they spend, the losses they can incur, and the time they spend on the platform. These limits are an effective way to ensure that gambling remains a recreational activity and does not escalate into a financial or time-consuming issue.
Promoting Awareness and Support: RustStake is committed to promoting awareness about the risks of gambling and provides resources for those who might need assistance. The platform offers links to organizations and support systems like PsychGuides and GamblersAnonymous, providing players with access to professional help and advice. Additionally, RustStake's customer support is trained to assist with queries related to responsible gaming, offering guidance and support to players seeking help.
Proactive Measures and Monitoring: Beyond providing tools, RustStake proactively monitors player behavior to identify potential signs of problem gambling. In cases where concerning patterns are detected, the platform may intervene by suggesting self-exclusion or directing players to appropriate resources for help.
RustStake's approach to responsible gaming is comprehensive and player-centric. By offering self-exclusion options, personal limits, and promoting awareness and support, RustStake demonstrates a strong commitment to ensuring a safe and responsible gambling environment for its community. This responsible gaming ethos is integral to RustStake's operations, reflecting its dedication to player welfare and sustainable gaming practices.
Pros and Cons of RustStake: A Balanced Overview
In the world of online gaming, especially in the niche of Rust gambling, RustStake has carved out its own space. Like any platform, it comes with its own set of strengths and weaknesses. Here's a balanced look at the pros and cons of RustStake, helping you make an informed decision about whether it's the right fit for your gaming needs.
Pros of RustStake
Diverse Game Selection: RustStake offers a wide array of games, including unique ones like Rusty Time and Mines, ensuring a varied and engaging gaming experience.
User-Friendly Interface: The website boasts a clean, intuitive design, making navigation and gameplay straightforward, even for beginners.
Mobile Responsiveness: With a design optimized for mobile devices, RustStake ensures a seamless gaming experience on the go.
Robust Security Measures: The platform employs SSL encryption and a provably fair system, providing a secure environment for players.
Exciting Promotions and Bonuses: From leaderboards to deposit bonuses, RustStake offers various incentives that enhance the gaming experience and reward player loyalty.
Multiple Deposit and Withdrawal Options: The site supports a variety of payment methods, including cryptocurrencies, offering flexibility for financial transactions.
Effective Customer Support: RustStake provides support through Discord, ensuring personalized and timely assistance.
Positive User Reviews: The platform has garnered favorable reviews on TrustPilot, indicating a satisfied user base.
Cons of RustStake
Limited High-Roller Options: The platform is noted to have fewer high-roller games, which might be a drawback for players seeking high-stake experiences.
Restricted User Base: Due to its focus on Rust skins, the site may not appeal to those who are not fans or collectors of Rust items.
Limited Free Play Options: The platform has fewer opportunities for free play or demo modes, which can be a downside for those looking to try games without financial commitment.
RustStake presents a compelling option in the world of Rust skin gambling, particularly for those who appreciate a diverse range of games and robust security. Its user-friendly interface and mobile responsiveness make it accessible to a wide range of players. However, its focus on Rust skins and the lack of certain features like live chat support might limit its appeal to a broader audience. As with any online gaming platform, it's important to weigh these pros and cons against your personal preferences and gaming style to determine if RustStake is the right choice for you.
RustStake on TrustPilot: Understanding User Feedback
TrustPilot, a widely recognized platform for customer reviews, offers valuable insights into user experiences with various services and products. For RustStake, TrustPilot reviews provide an important gauge of customer satisfaction and service quality. Here's an overview of RustStake's presence and performance on TrustPilot:
Overview of TrustPilot Reviews for RustStake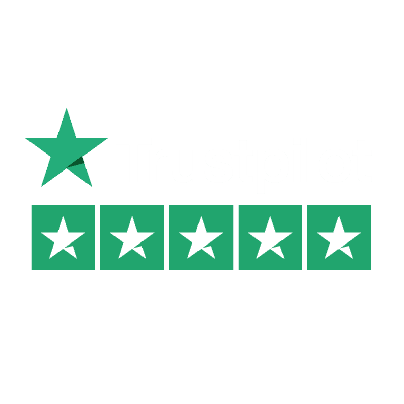 Rating: RustStake has earned a "Great" rating on TrustPilot, which is a testament to its positive reception among users.
Number of Reviews: With over 115 reviews, the platform has a substantial number of user opinions, providing a broad perspective on its services.
Analysis of User Feedback
Positive Aspects Highlighted by Users:

User Experience: Many reviews praise RustStake for its user-friendly interface and smooth gameplay experience.
Customer Support: Users often highlight the efficiency and helpfulness of RustStake's customer support, especially the quick response times via Discord tickets.
Game Variety: The diverse range of games available on RustStake, including unique offerings like Rusty Time and Mines, receives positive mentions.
Transaction Process: The ease and security of deposit and withdrawal processes are frequently commended.

Areas of Improvement Noted by Users:

While the overall feedback is positive, some users have pointed out areas for improvement, such as the desire for more high-roller game options and further enhancements to site navigation.
Representative User Reviews
Joaquin Guerrero: Rated 5 out of 5 stars. Highlighted the "good opportunities with giveaways and gambling" and the overall quality of the betting page.
Free Nitri: Also rated 5 out of 5 stars. Commended RustStake as the "best rust game site" and praised the fast deposits and withdrawals, as well as the high-quality theme.
MILscope: Gave a 5-star rating. Described RustStake as the "BEST RUST GAMBLING WEBSITE", emphasizing a positive personal experience.
TrustPilot as a Reliable Source
TrustPilot's platform is known for its reliability and authenticity, making it a trusted source for prospective users to gauge the credibility and quality of services like RustStake.
The platform's policy of verifying reviews ensures that the feedback is genuine and reflective of real user experiences.
The reviews on TrustPilot paint a largely positive picture of RustStake, highlighting its strengths in user experience, customer support, game variety, and transaction processes. While there are areas for improvement, the overall sentiment from users is encouraging, suggesting that RustStake is a reputable and enjoyable platform for Rust skin gambling. As with any service, prospective users should consider these reviews as one of many factors in making an informed decision about using RustStake.
Frequently Asked Questions
General Queries: Understanding RustStake
How do I register on RustStake?

Registration is quick and straightforward. Simply visit the RustStake website and follow the prompts to sign up using your Steam account.

What games are available on RustStake?

Platform offers a variety of games including Jackpot, Upgrade, Battles, Rusty Time, and Mines.
Technical Support and Troubleshooting: Solving Common Issues
What should I do if I encounter a problem with a game?

If you face any issues, you can contact customer support via Discord tickets. Provide detailed information about your issue for a swift resolution.

How can I ensure my transactions are secure?

RustStake uses SSL encryption to protect all transactions. Always make sure you're on the correct website and never share your login details with anyone.
| Aspect | Details |
| --- | --- |
| Website Name | RustStake |
| Established | 2021 |
| Company | SCHMELBAL LTD |
| Registration Number | 14974512 |
| Registered Address | 20 Wenlock Road, London, England, N1 7GU |
| Games Offered | Jackpot, Upgrade, Cases, Battles, Rusty Time, Mines |
| Unique Features | Interactive animations, RustStake backpack for easy item management |
| Site Design and Layout | Simple, clear, user-friendly, optimized for desktop, tablet, and mobile |
| Provably Fair System | Yes, with algorithm transparency and SSL encryption |
| Withdrawal Methods | Bitcoin, Ethereum, Litecoin, Rust Skins |
| Deposit Methods | Rust Skins, Skinify, Card, Apple Pay, Google Pay, PayPal, Neosurf, Neteller, Skrill, Trustly, Webmoney, PaySafeCard, Bitcoin, Ethereum, Litecoin, USDT, USDC, BNB, Dogecoin, Tron |
| Customer Support | Provided via Discord tickets |
| Promotions | Monthly, weekly, and daily leaderboards, 5% deposit bonus, Faucet, Rusty's Rakeback Program, Level Rewards |
| Community Engagement | Active on social media, including Twitter and Discord |
| Responsible Gaming | Self-exclusion lock, resources for gambling addiction support |
| TrustPilot Rating | Great (Based on 115 reviews) |
| Pros | Wide range of games, provably fair system, multiple payment methods, strong community engagement |
| Cons | Limited high-roller options, newer site with less established reputation |