Is RustyPot Legit? Unveiling the Truth
When it comes to online gambling, legitimacy is the cornerstone of trust. Since its inception, RustyPot has built a solid reputation in the Rust gambling community. The site's longevity and consistent player engagement are testaments to its standing in the industry. With a vibrant community and active games around the clock, website demonstrates its position as a leading Rust gambling site.
The platform's commitment to fairness is evident through its provably fair system, which has been rigorously tested to ensure unbiased gameplay. Moreover, the security of your data is guaranteed with SSL encryption, as evidenced by the padlock icon next to the website's URL, ensuring a secure gambling experience.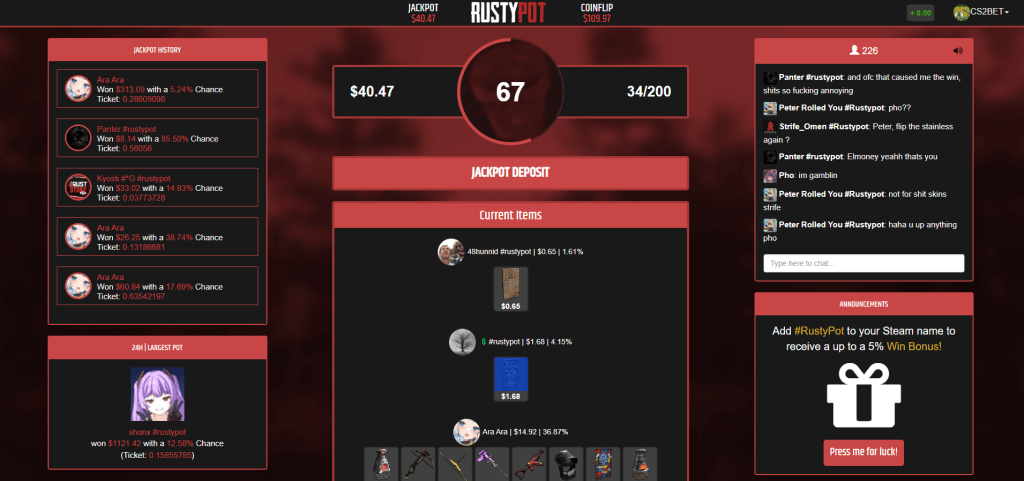 RustyPot's Bonus Codes and Strategies
For those looking to enhance their gambling strategy, platform offers various gambling codes that can be redeemed for bonuses or in-game currency. These codes, often shared on the Discord channel, twitter or through affiliate links, provide players with a head start on their gambling journey.
High-Stakes Games
RustyPot is renowned for its high-roller games, where the stakes are as high as the adrenaline rush. With jackpots frequently exceeding the $500 mark, the platform caters to those who seek the thrill of high-stakes gambling. However, it's worth noting that while the excitement is palpable, the house edge is also higher, which is a common trait among rust gambling sites.
How to Claim Free Sign-up Bonus
Claiming your free sign-up bonus is a breeze:
Log in with your RustyPot account.
Click on your profile photo at the top-right corner and select 'My Profile'.
Locate the Referral Code section.
Enter the code CS2BET and click claim button to redeem free balance.
Exploring the Best RustyPot Alternatives
While RustyPot is a titan in the Rust gambling website arena, there are other notable platforms worth exploring. Sites like RustChance, RustClash, and Bandit Camp offer diverse gambling experiences, from traditional jackpot games to unique betting opportunities.
Casino Games
RustyPot may not boast a vast array of casino games, but it specializes in what it offers. Let's dive into the two main attractions:
Jackpot: The Heart of High-Stakes Play
The Jackpot game is RustyPot's flagship, a place where up to 200 players can contribute their Rust skins into one massive pot. The excitement here is palpable as the stakes rise with each new contribution. The game operates on a simple principle: the more valuable the skins you put in, the higher your chances of winning. Yet, it's not solely for the high rollers; even those with modest contributions have a shot at the grand prize, keeping the game democratic and thrilling.
Coinflip: A Test of Fortune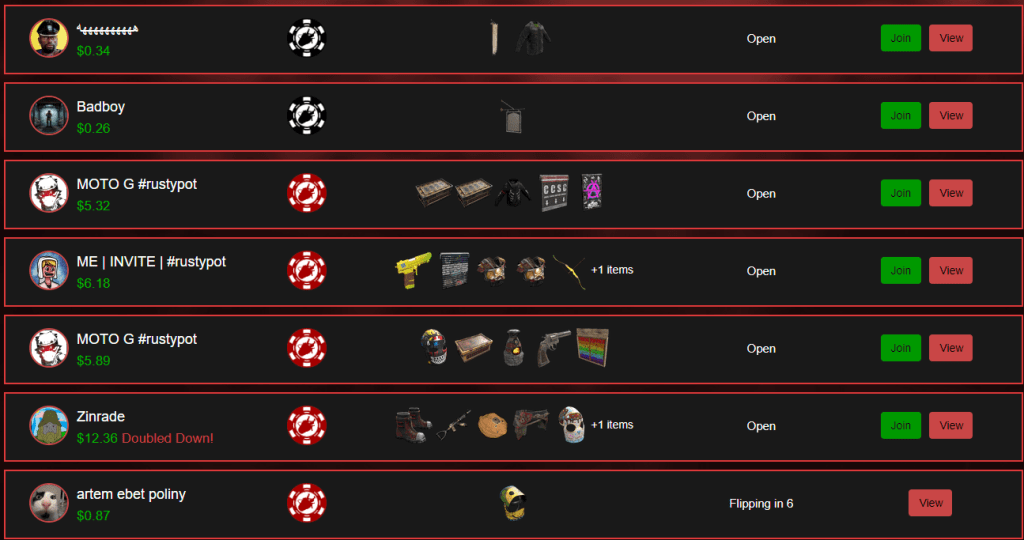 Coinflip offers a straightforward yet exhilarating experience. In this game, two players go head-to-head, wagering their skins on a 50/50 chance. It's the digital equivalent of flipping a coin, but here, the stakes are your coveted Rust skins. High rollers often grace this game as well, making for some tense and exciting moments.
RustyPot: Pros and Cons
Pros
Cons
Original Rust Skin Gambling Site
Outdated Game Animations and Audio
Launched in 2017 and established a loyal player base.
Some users may find the site's aesthetic and sound effects to be behind the times.
High-Roller Games
Limited to Rust Skins for Transactions
Commonly features games with significant stakes, attracting serious gamblers.
Only accepts Rust skins for deposits and withdrawals, which may not suit all users.
Free Sign-Up Bonus
Narrow Game Selection
Offers new users a bonus for signing up, enhancing the initial gambling experience.
Limited to jackpot and coinflip games, lacking variety compared to other sites.
Rakeback and Flash Giveaways
Basic Customer Support
Rewards system in place to give back to users and random giveaways to win prizes.
Customer support is primarily through Discord, which may not be as immediate or accessible as other platforms.
Live On-Site Chat
Provides a community feel with the ability for players to interact in real-time.
Bonuses & Promotions: Maximizing Your RustyPot Experience
RustyPot might not overflow with bonuses, but it offers enough to keep the excitement brewing. The platform's unique gambling codes provide players with a chance to earn more from their wins. By simply adding "#RustyPot" to their Steam profile names and confirming it on the site, players can unlock up to a 5% bonus on their winnings.
Flash Giveaways: Your Chance to Win Big
The thrill of winning isn't limited to the games. With the "Flash Giveaway" feature, players can win Rust skins randomly, adding an element of surprise and delight to the gambling experience. The giveaway wheel spins, and if luck is on your side, you could be the next winner of a coveted prize.
User Experience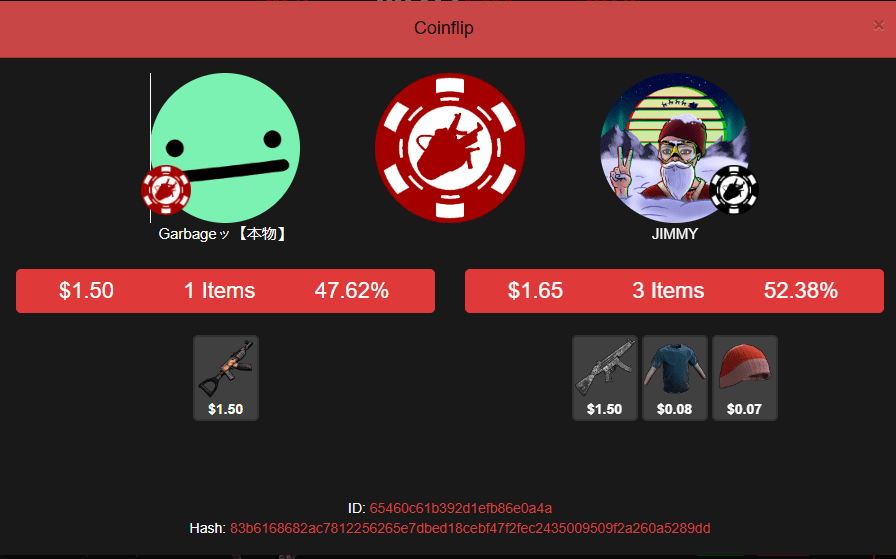 User interface might hark back to simpler times, but its simplicity is its strength. The no-frills design ensures that players can navigate the site with ease, focusing on the games rather than getting lost in flashy graphics. Registration is straightforward, requiring only a valid Steam account, which means you can go from visitor to player in no time.
Payment Methods: The Currency of Rust Skins
RustyPot stands out for its dedication to Rust skins as the sole currency for transactions. This focus creates a niche for the platform, distinguishing it from other gambling sites that diversify their payment methods. While this exclusivity aligns perfectly with the site's theme, the addition of other payment options could broaden its appeal.
Customer Support: Room for Improvement
Customer support could use a modern touch. Currently, the support system operates through Discord, where players must follow a series of steps to open a support ticket. In an era where instant support is the norm, RustyPot's reliance on a ticket system and a third-party platform for customer service could be a point of frustration for users.
RustyPot at a Glance:
| Feature | Details |
| --- | --- |
| Website | RustyPot.com |
| Launch Year | 2017 |
| Gamemodes | Jackpot, Coinflip |
| Provably Fair | Yes |
| Sign-up Bonus | Yes, with code CS2BET |
| Customer Support | Email, Discord |
| Payment Methods | Rust skins only |
| Bonuses | Flash Giveaways, Rakeback rewards |
| User Base | Large, with high-roller games |
| Security | SSL-encrypted connection |
| User Experience | Simple, intuitive design; easy navigation |
| Mobile Compatibility | Yes, accessible on mobile devices |
| Community and Support | Active Discord community; support ticket system |
| Legitimacy | Solid reputation with no credible scam accusations |
| Alternatives | RustChance, RustClash, Bandit Camp |
Frequently Asked Questions
What is RustyPot?
RustyPot is a leading online gambling platform for Rust skins, offering jackpot and coinflip games since 2017.
Is RustyPot Legit?
Our research and firsthand experience confirm that RustyPot is a legitimate platform with a strong reputation in the online gambling community.
Is RustyPot Trustworthy?
With no significant incidents of fraud or scams reported, RustyPot has proven to be a trustworthy site for Rust skin gambling.
Has Anyone Been Scammed on RustyPot?
Despite its longevity, RustyPot has managed to maintain a clean slate with no credible scam accusations from its user base.
Final Thoughts
RustyPot stands as a bastion for Rust skin gambling aficionados. It combines a provably fair system with straightforward navigation and a focused selection of games. While there's room for improvement in areas like customer support and payment diversity, the site's dedication to fair play and user experience keeps its loyal community coming back.
We invite you to share your thoughts and experiences with RustyPot. Have you tried your luck at the high-stakes Jackpot, or did you prefer the flip of a coin? Let us know in the comments below!