YaySkins: The Ultimate Review of the CS2 Gambling Site
In an ever-evolving world of online gaming, the emergence of skin betting platforms has captured the attention of many. Among these, YaySkins stands out, not just as another platform but as a game-changer. With its unique offerings and a user-centric approach, YaySkins has quickly established itself as a frontrunner in the CS2 skin betting domain. This comprehensive review aims to uncover the layers of YaySkins, providing potential users with an in-depth understanding of what to expect.
A Deep Dive into YaySkins
Launching in a competitive market requires more than just basic features. YaySkins understood this and hence debuted with an array of offerings that were both innovative and user-centric. The platform's seamless game animations combined with an attractive rewards system quickly caught the attention of many, making it a notable name in the CS2 skin gambling landscape.
Immersive Gaming Experiences at YaySkins
Every betting platform is defined by the quality and variety of its games. YaySkins stands out by offering a suite of engaging game modes, each catering to different user preferences and strategies. Here, we take a closer look at these games, diving into the mechanics, strategies, and unique features that make them stand out.
Roulette
A classic game with a CS2 twist! The roulette at YaySkins isn't just about numbers and colors; it's an immersive experience that transports players directly into the world of classic csgo gambling double game. Participants bet on one of three available symbols, each representing a different outcome. As the wheel spins, the anticipation builds. If the wheel lands on your chosen symbol, you stand to multiply your currency, making for thrilling highs and lows. The game is a perfect blend of strategy and chance, catering to both seasoned betters and newcomers alike.
The Jackpot Challenge
The jackpot game is all about high stakes and even higher rewards. Here, players pit themselves against each other, each hoping to draw the winning ticket. With three available modes, participants can choose the intensity and strategy of their gameplay. It's not just about luck; it's about reading the game, understanding your opponents, and making the right bets at the right time. Every round is a new challenge, making the jackpot one of the most exhilarating games on YaySkins.
Dive into Case Battles
For those who love strategy and competition, case battles offer an adrenaline-packed experience. Players can either join existing battles or create their own, choosing cases that align with their strategies. It's a game of wits, strategy, and anticipation. As cases are opened, players witness the unfolding drama, cheering for their chosen cases and hoping for the best outcomes. The option to spectate adds a communal dimension, allowing users to learn, strategize, and revel in the excitement.
Unleash Luck with Case Opening
The case opening feature is akin to a treasure hunt. With a myriad of CS2-themed cases to choose from, players are spoilt for choice. Each case holds a mystery, and opening it reveals rewards that range from the mundane to the extraordinary. Special cases marked with the king icon add an additional layer of excitement. Those who unlock these cases stand a chance to participate in the Case King feature, potentially maximizing their earnings. It's a game of pure chance, making every case opening an unpredictable and thrilling experience.
Weighing the Pros and Cons
Every platform, regardless of its offerings, has aspects where it shines and areas where there's room for improvement. YaySkins is no different. Its user-friendly design and diverse game modes have garnered much appreciation. The live chat feature adds a touch of personalization, ensuring users always have a channel for their queries or concerns.
On the flip side, the platform's absence of live dealer games and slots is palpable. Furthermore, a missing FAQ section indicates a potential gap in addressing common user queries, something that YaySkins could consider in its future updates.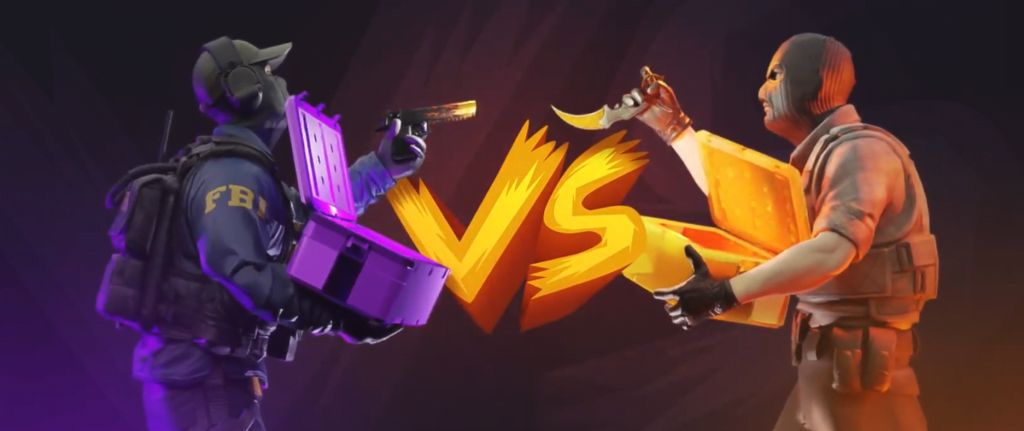 Maximizing Rewards with YaySkins Promotions
YaySkins has established itself as a dominant player in the CS2 skin betting space, not just through its games, but also through its comprehensive promotional offerings. These promotions are designed to engage, reward, and retain players, ensuring they have a fulfilling experience on the platform. Let's delve into these exciting promotions and understand their unique features and benefits.
Chat Rain: Rewards Pouring Down
One of YaySkins standout promotions is Chat Rain. Designed to keep players engaged and active, this feature showers rewards on those actively playing on the site. To be eligible, players must reach a specific level and then complete a quick captcha within a set window. This interactive feature not only offers an additional layer of excitement but also ensures that dedicated players get their due rewards.
The Throne of the Case King
Case King Bonus: A Step-by-Step Guide
Navigating through the thrilling world of YaySkins has never been more rewarding. With the Case King feature, not only do you get to enjoy the thrill of the game, but you also have a chance to reign supreme and earn additional rewards. Here's a breakdown of how this exciting feature works:
1. Dive into Case Openings
Start your journey to the throne by opening special cases. Look out for those marked with the unique Case King feature. These cases are your ticket to royalty. Every case you open increases your chances of ascending to the throne.
2. The Ascension to Royalty
Becoming the king isn't just about opening cases; it's about striking gold within them. If you manage to match or unlock an item that's more valuable than the one the current king has, the crown is yours. The transition is instant – outshine the reigning king, and you immediately begin your 24-hour rule.
3. Reap the Royal Rewards
Being the Case King isn't just a title; it's a privilege. As you enjoy your reign, YaySkins shares a portion of its earnings with you. This means every transaction, every case opened by anyone on the platform, contributes to your royal treasury. These rewards accumulate throughout your reign, whether it lasts the full 24 hours or is cut short by a new king.
4. Defend Your Throne
While you bask in the glory of being the Case King, remember that challengers are always waiting in the wings, eager to dethrone you. Stay active, keep opening cases, and aim to unlock even more valuable items to secure your position. The longer you stay on top, the more you earn.
Loyalty that Pays: The Loyalty Bonus
True to its commitment to rewarding its dedicated user base, YaySkins offers the Loyalty Bonus. By simply having yayskins.com in your username, you qualify for a 10% XP multiplier on every bet placed. It's a simple yet effective way to boost your rewards, reflecting YaySkins appreciation for its loyal community.
Daily Dose of Surprise with Free Cases
The Daily Free Cases system is a testament to YaySkins philosophy of giving back. As players engage in games and level up, they unlock opportunities to open a free case every 24 hours. Each case holds its unique set of rewards, adding an element of surprise and anticipation to the player's journey. The more you play, the more cases you unlock, making it a continuous cycle of rewards.
Growing Together with Affiliate Rewards
YaySkins promotes communal growth with its Affiliate Rewards. As your affiliate reaches specific milestones, both you and your affiliate earn rewards. It's a win-win, fostering a sense of camaraderie and mutual growth. This program not only incentivizes referrals but also ensures that both parties benefit from the engagement.
Rake in the Benefits with Instant Rakeback
Unlike traditional casinos where rakebacks are restricted to poker games, YaySkins extends this benefit to all its games. Players can earn back a percentage of their bets, ensuring they always get value, even when the odds aren't in their favor.
Boost Your Deposits with a 10% Bonus
CS2 Gambling Platform further rewards its players by offering a 10% deposit bonus. By using a preferred affiliate code and making a deposit, players can receive up to a $100 bonus, adding more value to their gaming experience.
Seamless Transactions – The YaySkins Way
In the world of online gaming, the ease of transactions can significantly influence a user's experience. YaySkins ensures this process is streamlined, offering a multitude of deposit methods ranging from CS2 skins to various cryptocurrencies like Ethereum and Bitcoin. This flexibility ensures users can choose a method they're most comfortable with, enhancing their overall experience.
Withdrawals, often a pain point in many platforms, are hassle-free. The platform supports a range of withdrawal methods, mirroring its deposit options. This symmetry in transaction methods showcases the platform's user-centric approach, aiming to provide a consistent experience.
Prioritizing Player Safety
Online platforms, especially those dealing with transactions, need to prioritize user safety, and YaySkins takes this responsibility seriously. The platform's self-exclusion feature is a testament to its commitment to promoting responsible gaming. Users can choose to take a break, setting their own hiatus duration, ensuring they always have control over their gaming habits.
Additionally, the feature's conditions, such as discouraging deposits, withdrawals, or new account creations during the self-exclusion period, underline YaySkins focus on user well-being over mere profit.
Stay Connected – Stellar Customer Support
A platform's responsiveness to its users often dictates its success, and YaySkins shines in this department. With a live chat feature, users have instant access to support, ensuring their queries or concerns are addressed promptly. This immediate assistance enhances user trust and fosters a sense of community.
Beyond the platform, YaySkins maintains an active presence on various social media platforms, ensuring users are always in the loop. Whether it's updates, announcements, or community interactions, platforms like Discord, Instagram, and Twitter keep the YaySkins community connected and engaged.
A Seal of Authenticity – Company Information
Trust is paramount in the online world. YaySkins, operated by LiqiSoftware Ltd and based in Nicosia, Cyprus, provides transparency about its operations, further establishing user trust. The platform's independence from affiliations with major names like CS2, Steam, and Valve ensures users are always at the forefront, devoid of external influences.
Fairness in Gameplay – The YaySkins Promise
Every gamer seeks a level playing field, and YaySkins delivers. With deterministic outcome calculations and transparent server seeds, the platform guarantees the fairness of every game. This commitment to transparency ensures users can play with confidence, knowing the outcomes are genuinely random and free from manipulation.
Hassle-free Logins
Easy access is key to a seamless user experience. Website offers diverse login methods, ensuring users can quickly dive into the action. Whether they prefer logging in via email, Steam, or Google, the platform accommodates all, exemplifying its user-first approach.
Upholding Legal Standards
Regulations ensure user safety and platform credibility. YAYSKINS, in its quest to provide the best to its users, periodically seeks identity verification. This step, aligned with legal norms, ensures the platform remains compliant while safeguarding user interests.
Navigating the world of CS2 skin gambling sites can be daunting, but platforms like YaySkins simplify the journey. With its diverse offerings, user-centric approach, and unwavering commitment to safety and fairness, YaySkins has set a benchmark. As it continues to evolve, one aspect remains unchanged – its dedication to elevating the user experience. So, as YaySkins continues its ascent, the question remains – are you on board?
YaySkins At A Glance
| Feature | Details |
| --- | --- |
| Website Design | User-friendly, intuitive layout |
| Game Modes | Roulette, Jackpot, Case Battles, Case Opening |
| Pros | Diverse games, live chat, well-designed UI |
| Cons | No live dealer games, no dedicated FAQ section |
| Promotions | Chat Rain, Case King, Loyalty Bonus, Affiliate Rewards, etc. |
| Deposit Methods | CS2 Skins, Ethereum, Bitcoin, Dogecoin, and more |
| Withdrawal Methods | CS2 Skins, Ethereum, Bitcoin, Dogecoin, and more |
| Customer Support | Live Chat, Discord Ticket System |
| Social Media | Discord, Instagram, Twitter |
| Company Location | Nicosia, Cyprus |
| Affiliations | Independent from CS2, Steam, Valve, etc. |
| Fairness Assurance | Deterministic outcomes, transparent server seeds |
| Login Options | Email, Steam, Google |
| KYC & AML | Periodic identity verification |
---
Frequently Asked Questions (FAQs) about YaySkins
What is YaySkins?
YaySkins is an online betting platform specializing in CS2 skin betting, offering a range of unique game modes.
How does the Chat Rain promotion work?
Chat Rain rewards active players on the site. To be eligible, players must be at least level 15 and complete a captcha within a 2-minute window.
Can I deposit using cryptocurrencies?
Absolutely! Platform supports multiple cryptocurrencies like Ethereum, Bitcoin, Dogecoin, and more for deposits.
Is there a loyalty program on YaySkins?
Yes, by adding yayskins.com to your username, you qualify for a 10% XP multiplier on every bet.
How does YaySkins ensure fair gameplay?
YaySkins uses deterministic outcome calculations combined with transparent server seeds to ensure every game's fairness.
Are there any login restrictions on YaySkins?
No, users can easily log in using various methods including email, Steam, and Google.
How can I reach out to YaySkins customer support?
YaySkins offers a live chat feature for instant assistance. Additionally, they are active on platforms like Discord and Twitter for broader engagement.