Advantages
User-friendly interface
Mobile-friendly design
Regular promotions and bonuses
Wide variety of payment options, including cryptocurrencies.
Disadvantages
Limited to Counter-Strike skins only
Are you a fan of CS2 skins and always on the lookout for a fantastic platform to trade them? Look no further! 🌟 Today, we're diving deep into the world of Farmskins, an exciting and innovative skin trading platform for CS2 enthusiasts. Let's explore all the features, pros, cons, and everything in between. So, grab your favorite beverage, and let's get started! 🍹
About Farmskins
Farmskins is a unique and popular case opening platform specifically designed for CS2 enthusiasts. Since its launch in 2016, it has gained a massive user base, attracting both casual players and serious collectors. Farmskins offers a variety of features, including case openings.
| Fact | Details |
| --- | --- |
| Launch Year | 2016 |
| Focus | CS2 Case Opening |
| Available Worldwide | Yes |
| Case Openings | Available |
| Skins Upgrade | Available |
| Security & Regulation | High |
Website Interface & User Experience
Farmskins' website design is sleek, modern, and super user-friendly. The navigation menu is neatly organized, making it easy to find the information and features you're looking for. The site also provides a seamless user experience, with smooth transitions between pages and no lag. Although there's no mobile app, the website is fully responsive and works well on all devices. 📱
Website Rating
On a scale of 1 to 5, we would give Farmskins a solid 4.5. The platform offers a fantastic user experience, a variety of features, and a strong focus on security. However, the lack of a mobile app and the limitation to CS2 skins only prevent it from achieving a perfect score. ⭐
Promotions
Who doesn't love a good promotion? 😍 Farmskins offers regular promotions and bonuses to its users. These include daily free cases, deposit bonuses, and referral rewards. The platform also has a leveling system that rewards users for their activity, providing even more incentives to keep using the service. 💰
What Games Can You Play at Farmskins
Farmskins offers a variety of games and features for users to enjoy:
Case Openings 📦

Open a variety of CS2 cases to discover new and exciting skins. With an extensive range of cases available, you'll never run out of options.
Case Battle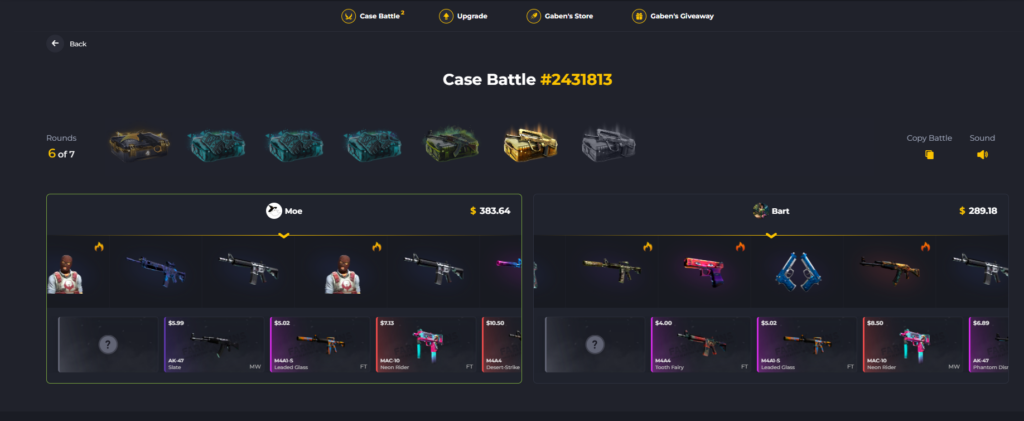 Case Battle feature is a fun and exciting way to try your luck and potentially win valuable in-game items. The interface is easy to use and understand, and the matchmaking system ensures that players are matched against others with a similar skill level.
Security & Regulation
Farmskins takes security and regulation very seriously. The platform uses SSL encryption to protect user data and transactions, and it operates under the regulatory guidelines set by the appropriate authorities. Additionally, Farmskins has implemented a variety of measures to prevent fraud and ensure fair play, giving you peace of mind while using the service. 🔐
Additional Features
Upgrade Feature 🔝
Upgrade feature allows you to exchange your current skin for a more valuable one by paying the price difference. This feature is excellent for users who want to upgrade their inventory without going through the hassle of trading or opening multiple cases.
Affiliate Program 💼
Farmskins has an affiliate program that enables you to earn a commission by referring new users to the platform. Share your referral link with friends or through social media, and you'll receive a percentage of their deposits, providing you with a passive income opportunity.
Customer Support 📞
Farmskins offers excellent customer support through multiple channels, including email and live chat. The support team is responsive and knowledgeable, ensuring any issues you encounter are resolved quickly and efficiently.
Multiple Payment Options 💳
Case opening platform provides a variety of payment options for users to deposit and withdraw funds. Some popular payment methods include credit cards, cryptocurrencies, and e-wallets. This flexibility allows users to choose their preferred payment method for a seamless transaction experience.
Community Involvement 🤝
Farmskins has a strong presence on social media and actively engages with the CS2 community. This involvement helps the platform stay updated with the latest trends and developments, ensuring it continues to provide the best possible experience for its users.
Future Developments and Updates
Farmskins continuously strives to improve and expand its services. While we cannot predict the exact future developments, here are some potential updates and features that may be added to the platform in the coming years:
Expansion to Other Games 🕹️
Given the growing popularity of various esports titles, Farmskins might consider expanding its services to include skins and in-game items from other popular games. This expansion would attract a more diverse user base and provide additional options for existing users.
Mobile App 📲
As mobile gaming continues to surge in popularity, Farmskins may decide to develop a dedicated mobile app for Android and iOS devices. A mobile app would provide users with a more convenient and accessible way to trade skins, open cases, and bet on esports events.
New Game Modes and Features 🎲
Farmskins could introduce new game modes and features to enhance the user experience further. For example, they might add mini-games, tournaments, or additional betting options to keep users engaged and entertained.
Partnerships and Sponsorships 🤝
Farmskins may explore partnerships and sponsorships with esports organizations, teams, or influencers. These collaborations could lead to exclusive promotions, events, and content, providing users with unique opportunities and experiences.
Enhanced User Profiles and Social Features 👥
Farmskins might consider adding more social features and enhancing user profiles, allowing users to connect with friends, showcase their inventory, and share their achievements. These features could help build a stronger sense of community on the platform and make it more enjoyable for users.
Tips for Using Farmskins
Stay updated on promotions: Keep an eye on Farmskins' promotions page to take advantage of daily free cases, deposit bonuses, and other offers.
Level up for rewards: The more you use Farmskins, the more rewards you'll earn through their leveling system. Be active on the platform to unlock exclusive bonuses and features.
Research before betting: When betting on esports matches, do your research on the teams and players involved to make informed bets and increase your chances of winning.
Secure your account: Enable two-factor authentication (2FA) on your Farmskins account to add an extra layer of security and protect your valuable skins and funds.
Join the community: Connect with other Farmskins users on social media and community forums to share tips, advice, and stay informed about platform updates.
Final Thoughts
Farmskins is a fantastic platform for CS2 enthusiasts who want to trade skins, open cases, bet on esports, and more. Its extensive features, user-friendly interface, and commitment to security make it an excellent choice for gamers worldwide. While there are some limitations, the platform's overall performance and features make it well worth exploring. So, why not give Farmskins a try today and experience the excitement for yourself? 🚀